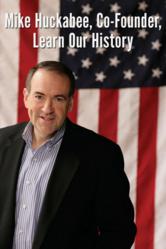 "I am pleased to be a part of the education discussion with our new project Learn Our History and am looking forward to speaking at the Midwest Homeschool Convention in Cincinnati. I hope to see all my homeschooling friends there!"
- Mike Huckabee
Cincinnati, Ohio (PRWEB) March 06, 2012
The largest annual Homeschool convention in the United States, the MidWest Homeschool Convention in Cincinnati, OH, will take place April 19 – 21, 2012 at the Duke Energy Convention Center. This year's convention features a special opening night keynote address from Governor Mike Huckabee, co-founder of "Learn Our History."
"I have a deep appreciation for homeschooling families. I am personally devoted to doing my all to strengthen traditional families and to improve education opportunities in our nation. Both today in the public arena and during my time as governor I have supported parents in the pursuit to provide the best and the right education for their children. I am pleased to be a part of the education discussion with our new project Learn Our History and am looking forward to speaking at the Midwest Homeschool Convention in Cincinnati. I hope to see all my homeschooling friends there!" - Mike Huckabee
Former Arkansas Governor Mike Huckabee co-founded "Learn Our History," with Bradley Saft, the company's CEO. Learn Our History is an exciting American history video company with the mission of giving children across America a new and fun way to learn US history, free from the biases and inaccuracies often found in traditional educational materials. Since launching "Learn Our History" in May of 2011, the series has become a huge hit with the homeschool community - given the breadth of content, historical accuracy and fun animation. Developed under the direction of leading historians and educators, the series features a group of friends who go back in time to relive the most influential stories of our nation. Children get to go along for the ride to see it all, from the earliest days of our nation to the latest events that continue to transform America today. Huckabee has a deep passion for American History—a passion that led to his involvement in the development of the "Learn Our History" DVD video series for children.
"History is to a culture what memory is to an individual. Without some sense of who we were, we're incapable of knowing who we are and who we will become." - Mike Huckabee
Mike Huckabee has long been an advocate of home schooling. In 1997 while serving as Governor, Huckabee became the first Governor ever to appoint a homeschooling parent to the State Board of Education with his appointment of JoNell Caldwell.
Governor Huckabee is currently the of host of the number one rated weekend hit "HUCKABEE" on the Fox News Channel, and is heard three times daily across the nation on the "Huckabee Report." He is also the author of 9 books, the most recent being "A Simple Government."
You'll find more information about this Ohio homeschool conference at http://www.CincinnatiHomeschoolConvention.com.
Great Homeschool Conventions (GHC) is an organization committed to serving, supporting and encouraging homeschooling parents while providing outstanding homeschool curriculum resources and an opportunity to gather as a community. In addition to this year's Cincinnati Homeschool Convention, GHC also hosts homeschool conventions in Greenville, SC; Memphis, TN; Long Beach, CA and Hartford, CT.