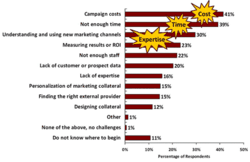 Like enterprises, SMBs are facing a dynamically changing mix, no matter the medium of choice, SMBs want to look credible and professional as they spread the word about their businesses
Weymouth, MA (PRWEB) March 06, 2012
Key Highlights:

The marketing needs of small and medium businesses (SMBs) are spread across a variety of channels; including mass media, promotional print, digital, mobile, and social media.
Commercial printers, office superstores, and online printing services are a go-to resource for SMBs; providing a tremendous opportunity to diversify their services and help SMBs with their marketing efforts.
Only 7.4% of SMBs report using external services for ALL of their marketing activities. SMBs are "do-it-yourself" companies; they need self-service tools that help them meet their marketing objectives.
Just over 14% of SMBs reported that they are currently using a marketing automation solution for their business, while another 25% are considering.
Budget, Time, and Expertise
Small and medium-sized businesses (SMBs) account for the majority of U.S. firms in existence today. Included are construction companies, hairdressers, dentists, lawyers, real estate agents, and local "mom and pop" retail stores. While major enterprise corporations have the luxury of spending millions, or even billions of dollars on marketing and advertising annually to build sales and grow profits, SMBs are often restricted by three key areas; budget, time and expertise.
"Like enterprises, SMBs are facing a dynamically changing mix, no matter the medium of choice, SMBs want to look credible and professional as they spread the word about their businesses," commented Pieruccini. "The fragmented nature of the SMB market provides an enticing, yet challenging, sales opportunity for print service and software providers. Software and service providers need to recognize that the marketing communication needs of SMBs are being redefined. Solutions that focus on all digital or all print marketing are no longer viable in the cross-media world. SMBs are turning to service providers and web-based software to provide solutions to manage their media needs."
Critical Success Factors
SMBs are generally mixed on whether or not they prefer a software solution or a service provider to manage their marketing needs, however, one fact is for sure − they prefer to manage all marketing in one central place. This study addresses a number of critical success factors that solution and service providers need to keep in mind when trying to capture the SMB marketing automation opportunity:

Ease-of-use
Affordability
A Consultative Approach
Measurement of Communication of Success
All-Channel Approach
Understand Root Business Needs
Meet Vertical Specific Needs
Project Objectives
Based on extensive analysis of 2,010 small and medium businesses surveyed in the United States, a dozen phone interviews with SMBs across the major verticals, and five interviews with innovative marketing communication service providers that focus on SMBs, Capturing the SMB Marketing Automation Opportunity covers the following aspects of the SMB market:

Understand the SMB marketing and business communications automation opportunity
Key applications by SMB vertical
Internal infrastructure and resources for marketing communications
Current marketing spend and outlook across applications and channels
o Print, e-mail, Web, mobile, and social

Current marketing mix for customer acquisitions / retentions
Management and analytics capabilities of customer information
Relationships, considerations and go-to-market strategies for external service providers
o Awareness and usage of external service providers
o Understanding success factors in services such as design, photography, and advertising

Understanding success factors in technology
Identify pain points and future requirements across major SMB verticals
Provide recommendations on service offering, pricing, product offering, vertical, markets, and partner opportunities
To listen to the complete podcast, visit the InfoTrends Web site. For more information on the study or to make a purchase, please contact Jennifer Skerrett at +1 781 616 2111 or e-mail jennifer(underscore)skerrett(at)infotrends(dot)com.
InfoTrends, a Questex company, is the leading worldwide market research and strategic consulting firm for the digital imaging and document solutions industry. We provide research, analysis, forecasts, and advice to help clients understand market trends, identify opportunities, and develop strategies to grow their businesses. Additional information about InfoTrends is available on the Web at http://www.infotrends.com.
Copyright 2012 InfoTrends. All rights reserved. Reproduction or reuse of InfoTrends materials is strictly prohibited without prior written consent.
For media inquiries contact Donna O'Malley at +1 781 616 2116 or donna(underscore)omalley(at)infotrends(dot)com.