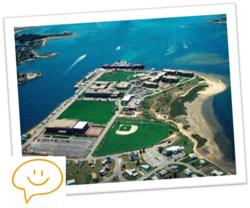 "I joined WellBalance because I believe in the mission of helping adolescents live healthier, happier lives," commented TV Fit Coach and Vice President of Programs, John Taylor
Buzzards Bay, CA (PRWEB) March 06, 2012
WellBalance fitness and weight loss camps announces the opening of a brand new location on Cape Cod, Massachusetts, one of the top vacation destinations in the country.
WellBalance Cape Cod weightloss camp for kids, teens, and young adults will be hosted on the beautiful campus of Massachusetts Maritime Academy. The summer health camp campus boasts ocean waters on three sides, a small private beach, multiple gyms and fields, weight training facilities, aerobics and dance studios, and indoor pool.
WellBalance offers boys and girls, young men and women ages 10 – 20 the opportunity to develop lasting lifestyle changes with an executive staff comprised of masters-level expertise in nutrition, fitness, and behavioral change. The WellBalance Cape Cod weight loss camp staff includes famous TV Fit Coach John Taylor, featured on Good Morning America, E! Network, Rachael Ray, the Style Network, The Washington Post, The Huffington Post, Yahoo News, and local morning television programs.
"I joined WellBalance because I believe in the mission of helping adolescents live healthier, happier lives," comments John Taylor, "I believe our new location on Cape Cod provides the best weight loss camp experience anywhere on the east coast because we have a great campus situated in an area with beautiful weather, beaches, and so many active opportunities nearby."
Fitness and weight loss campers will come together from Massachusetts, Rhode Island, Connecticut, New York, New Jersey, and from around the country to gain support, insight, and experience in living their new healthy lifestyles. Campers will participate in a wide variety of sports and games, gain invaluable nutrition and cooking expertise, and learn from cognitive behavioral lifestyle sessions how to get and stay motivated.
Families are included every step of the way, with lessons, constant communication, and Friends & Family Weekends where they can see their child and learn how to provide support at home.
"Every aspect of our program is designed to help the weight loss camper and the entire family learn how to improve their healthy balance," continues John Taylor, "Campers are provided lessons they can personalize to fit their needs and goals. Plus, we'll have a ton of fun on campus and off-campus as we enjoy all that Cape Cod and Boston has to offer."
WellBalance Cape Cod's fitness and weight loss health camp for kids, teens, and young adults will run for 8 weeks starting Sunday, June 24, 2012 and continue until Saturday, August 11, 2012. Campers may sign up for sessions lasting anywhere from 2 through 8 weeks, with a new start date every Sunday in the summer. Campers are picked up at Boston International Airport if they choose to fly.
Families interested in enrolling their child at WellBalance can contact John Taylor at (800) 975-0435 or visit our website,http://www.WellBalance.com, for more information.
WellBalance health camps (http://www.WellBalance.com) were created in response to the growing obesity epidemic and the unmet needs for a realistic, scientific, and personalized approach to fitness and weight loss. The WellBalance approach, called the ME Plan, is designed to Motivate & Educate on diet + activity + lifestyle changes. Founded by professionals and guided by experts who provided leadership to some of the largest behavioral health, mental health, and treatment programs in the country, WellBalance is working to become the leader in fitness and weight loss programs. WellBalance operates two summer camps in Cape Cod, Massachusetts and Santa Cruz, California. For additional information please visit http://www.wellbalance.com or call (800) 975-0435.