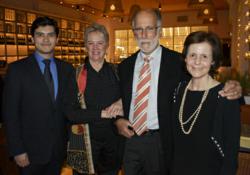 Westchester, NY (PRWEB) March 08, 2012
FIG & OLIVE recently hosted a cocktail reception for Pediatric Cancer Foundation as the nonprofit charity publicly thanked volunteers and honored Dr. Charles Stolar for his years of dedication in the fight to find a cure for childhood cancer.
"The benefit party is our way of giving back to a charity that is dear to our founders and partners," said FIG & OLIVE's Executive Chef Pascal Lorange. "Pediatric Cancer Foundation is an exceptionally dedicated, worthwhile organization. We're excited to be able to contribute to their cause."
Founded in 1970, Pediatric Cancer Foundation's mission is to find a cure for childhood cancer by raising money for research, equipment and patient/parent care at leading area hospitals. More than 12,000 infants and children are diagnosed with cancer each year, making pediatric cancer the No. 1 cause of non-accidental death in children. The foundation receives no funding from the government and notes that since 1970, $.90 of every dollar donated goes to support its mission.
Dr. Stolar, Surgeon-in-Chief at New York-Presbyterian Morgan Stanley Children's Hospital/Columbia University Medical Center, is a long-time friend and supporter of the Pediatric Cancer Foundation. He was joined at the benefit by his wife, Carol Stolar, with whom he lives in Englewood, N.J.
"The eradication of this devastating disease depends on people like Dr. Charles Stolar and all our wonderful volunteers and supporters," said Pediatric Cancer Foundation President, Cheryl Rosen. "We thank FIG & OLIVE for joining us in our mission to ...hold the hand of a child. The support of community businesses is so vital to our mission."
FIG & OLIVE is located in the Lord & Taylor/Vernon Hills Shopping Center, 696 White Plains Road, Scarsdale, N.Y. Inspired by the cuisine of Southern France, Italy and Spain, the restaurant chooses only the finest ingredients and uses an exquisite selection of extra virgin olive oils to accentuate the natural flavors of each dish. For more information about hosting a private party, call 914.725.2900 or visit http://www.figandolive.com.
###