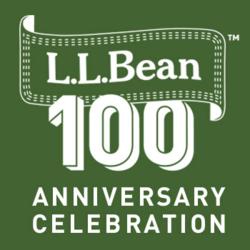 The L.L.Bean Visa Sweepstakes is a fun way for our cardmembers to join our 100th celebration
Freeport, ME (PRWEB) March 06, 2012
To celebrate the company's 100th anniversary, L.L.Bean has launched the L.L.Bean Visa Centennial Sweepstakes with a grand prize of $1 Million.
The L.L.Bean Visa Sweepstakes offers an opportunity for L.L.Bean cardmembers to win a cash grand prize of $1 Million. Sweepstakes entries are automatic when cardmembers use their L.L.Bean Visa Card, issued by Barclaycard US, for purchases. Entries accumulate, too. So, the more they use their card, the more chances cardmembers have to win. Cardmembers can accelerate their chances of winning by using their L.L.Bean Visa card for everyday purchases such as gas, groceries, utilities and retail purchases.
Launched March 5, 2012, the sweepstakes also provides cardmembers with the opportunity for a chance to win one of 25 prizes each month from March through December. Monthly prizes include (10) $500 L.L.Bean Gift Cards, (10) pairs of Bean Boots, (1) Camping Package, (1) Kayaking Package, (1) 100th Collectors Knife & Case, (1) Double L Fly Rod and Reel Package and (1) $500 L.L.Bean Outdoor Discovery Schools Adventure Gift Card.
"The company has always been about helping families get outside and enjoy outdoor activities. These prizes – and certainly the grand prize – will help people do just that," said Shelly Bartlett, Vice President of Card Services, L.L.Bean. "The sweepstakes is a fun way for our cardmembers to join our 100th celebration. We have also made the entry process as simple as possible – no forms to fill out, online codes to enter. Entries are automatic."
"Barclaycard US is excited to partner with L.L.Bean in its centennial celebration," said Surinder Singh, General Manager-US Cards, Barclaycard US. "Cardmembers will be pleased that there is no cost or effort to enter and will see how easy it is to earn chances in the sweepstakes -- by doing what they are already doing now – using their card to make purchases."
Sweepstakes entries will be automatically entered for each purchase transaction made starting March 5 through Dec, 31, 2012 -- no hoops to jump through or forms to fill out.
Using the L.L.Bean Visa credit card, cardmembers will earn:

Five entries for every gas purchase
Three entries for every other outside purchase where VISA credit cards are accepted
One entry for every L.L.Bean purchase
There is no limit to the number of entries, no minimum purchase, all entries accumulate and entrants can win more than once. People who don't have the card can also enter through the mail, without purchase and residents of all 50 states are eligible. Complete information about the sweepstakes is available on http://www.llbean.com/1million.
About L.L.Bean, Inc.
L.L.Bean, Inc. is a leading multichannel merchant of quality outdoor gear and apparel. Founded in 1912 by Leon Leonwood Bean, the company began as a one-room operation selling a single product, the Maine Hunting Shoe. While its business has grown over the years, L.L.Bean still upholds the values of its founder, including his dedication to quality, customer service and a love of the outdoors. L.L.Bean products are rigorously tested, guaranteed to last and always shipped free. In the past five years, L.L.Bean has donated over $6 million toward conservation and land stewardship. The 200,000 sq. ft. L.L.Bean retail store campus in Freeport, ME, is open 24 hours a day, 365 days a year, and welcomes more than 3 million visitors every year. L.L.Bean can be found worldwide at http://www.llbean.com, L.L.Bean Facebook, L.L.Bean Twitter and L.L.Bean YouTube.
About Barclaycard US
Headquartered in Wilmington, Del., Barclaycard US creates customized, co-branded credit card programs for some of the country's most successful travel, entertainment, retail, affinity and financial institutions. The company employs 1,300 associates. For more information please visit.
Barclaycard, part of Barclays Retail and Business Banking division, is a leading global payment business that helps consumers, retailers and businesses to make and accept payments flexibly, and to access short-term credit when needed.
The company is one of the pioneers of new forms of payments, and is at the forefront of developing viable contactless and mobile payment options for today and cutting edge forms of payment for the future. It also issues credit and charge cards to corporate customers and the British Government. Barclaycard partners with a wide range of organizations across the globe to offer their customers or members payment options and credit.
Barclaycard operates in the United States, Europe, Africa and the Middle and Far East. For further information about Barclays, please visit http://www.barclays.com.
###