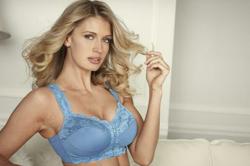 "The Comfort Choice® Gel Strap Bra is specifically designed to relieve shoulder pressure, providing soft, luxurious support the entire day for active women who are on the go."
New York, NY (PRWEB) March 06, 2012
Fullbeauty.com, a revolutionary lingerie website that is part of Redcats USA's OneStopPlus Group, has introduced the new Comfort Choice® Gel Strap Bra, redefining the bra strap to reduce shoulder pressure.
The full beauty team designed the Comfort Choice® Gel Strap Bra with super pliant and lightweight silicone extra-wide gel straps that pampers your shoulders for all day comfort, eliminating shoulder strain and dispersing pressure evenly to avoid strap dig in. Along with the gel-padded straps, this innovative bra is made of nylon/spandex tricot knit with scalloped lace, and is offered in five beautiful colors (black, lavender tulip, blue bell, white and nude). Available in sizes 38B to 54G and priced from $26.99 to $31.99 (depending on size), full beauty offers the Comfort Choice® Gel Strap Bra at a very affordable price.
"Most of our ideas for new bra innovations come directly from customers who share what they need, especially from the perspective of a full figured woman who desires a foundation product that is comfortable for all day wear, yet still beautiful and sexy," said Michele Crawbuck, Vice President, General Brand Manager, FullBeauty. "The Comfort Choice® Gel Strap Bra is specifically designed to relieve shoulder pressure, providing soft, luxurious support the entire day for active women who are on the go."
Not sure what size bra you wear? Click here to watch a video entitled "Fit Matters - A Bra Guide": http://www.fullbeauty.com/staticpage/contentpage.aspx?pagename=bra_fit_video
FullBeauty.com is the definitive solution for the 62 percent of U.S. women who are plus-size, and the 80 percent who are wearing the wrong size bra, as it provides an incredible selection of lingerie that has been especially designed for curvy women. Originally launched in September 2011, fullbeauty.com is a natural extension of the company's plus-size women's apparel business and is validated by its expertise in plus-size fit, quality, innovation and service. FullBeauty.com features plus size bras (from 36B to 50N) and lingerie representing the most comprehensive range of brands, styles, sizes and colors available anywhere in the world. Proprietary brands include: Comfort Choice®, Amoureuse® and Dreams and Co®.
For more information, please visit: fullbeauty.com(http://www.fullbeauty.com/), our Facebook page and follow us on Twitter.
FullBeauty.com is a division of the OneStopPlus Group, the preferred brand portfolio of women's apparel, shoes, lingerie, men's and home products dedicated to plus sizes. Proprietary brands in the OneStopPlus portfolio include: Woman Within® (WomanWithin.com), Roaman's® (Roamans.com), Jessica London® (JessicaLondon.com), Full Beauty (fullbeauty.com), KingSize® (KingSizeDirect.com), BrylaneHome® (BrylaneHome.com), Bargain Catalog Outlet - BCO® (BCOutlet.com) and OneStopPlus.com®, an online marketplace featuring thousands of brands and products, the #1 destination to shop for plus sizes.
About Redcats USA
Redcats USA is a dynamic, web-driven home-shopping leader with numerous successful brands and specialized e-commerce sites in its portfolio: OneStopPlus.com®, AVENUE®, Woman Within®, Jessica London®, Roaman's®, fullbeauty.com, KingSize®, BrylaneHome®, Bargain Catalog Outlet – BCO®, The Sportsman's Guide® , Bargain Outfitters®, Boating Savings®, Work Wear Savings®, TGW.com - The Golf Warehouse®, Baseball Savings®, Softball Savings® and Soccer Savings®. Redcats USA offers a wide range of value and quality driven merchandise categories, including men's and women's plus-size apparel, home and lifestyle products, and sporting goods/outdoor gear. Redcats USA is a Redcats company.
About Redcats
Redcats is a leading worldwide online retailer for fashion and home furnishings. The group gathers 17 European and US based brands in 31 countries: Avenue®, Woman Within®, Jessica London®, Roaman's®, KingSize®, BrylaneHome®, OneStopPlus.com, The Sportsman's Guide®, TGW.com - The Golf Warehouse®, Ellos, La Redoute, Vertbaudet, Cyrillus, Somewhere, Daxon, Stella McCartney Kids and Castaluna. In 2010, Redcats generated 3.436 billion euros of sales including 54% on Internet and employs over 14,000 associates. Redcats distribution network combines more than 70 e-commerce sites, nearly 600 stores and around 30 catalogues for 26 million active customers. Redcats is a PPR Company. For any further information: http://www.redcats.com
Contact Information
Karen Davis
Corporate PR & Communications
Redcats USA
Karen.davis(at)redcatsusa(dot)com
212-502-9315