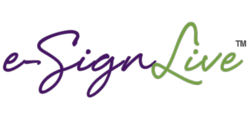 With e-SignLive we are now getting back documents more quickly and accurately and with much less effort on the part of our customer.
Montreal, QC (PRWEB) March 06, 2012
e-SignLive™, the online, on demand electronic signature service for mid-market and small businesses in compliance-driven industries, today announced that Signature Bank has incorporated the electronic signature solution into all treasury management operations, including collections, disbursements, concentration, investment and funding activities.
"We want our customers to appreciate a smooth and simple banking experience with Signature Bank from day-one and this eliminates all of the complexity that comes with switching banks and adding products," said Anne C. Doligale, senior vice president for the bank. "With e-SignLive we are now getting back documents more quickly and accurately and with much less effort on the part of our customer."
The key differentiators that make e-SignLive the smartest choice for banks like Signature Bank include:

Deep knowledge and experience in the banking industry – The provider of the e-signature solution has processed hundreds of millions of e-transactions, strengthening business processes within the world's largest insurance and financial services companies, government agencies and service providers.
Fast, efficient, and exceptional customer experience – Banks can offer customers the ability to go through banking documents with one-click e-signatures that normally would have taken numerous hard-copy signatures. This shaves hours, and sometimes days, off of the signing process by eliminating faxing, scanning and express delivery.
Superior encryption and authentication – The reliable and secure e-signature solution embeds digital signatures along with detailed audit trail information right into the document so that tampering is immediately visible.
Easy to use templates – Templates can be created digitally and personalized for each customer. The simple integration of e-SignLive into existing systems makes saving time and money an immediate benefit.
"There is a growing trend in the banking sector to improve customer relations without compromising regulatory and legislative requirements," said Robert Al-Jaar, Executive Vice President of Silanis Online e-Signature Services. "e-SignLive offers a secure, fast and efficient solution for both banks and their patrons. We are very excited that Signature Bank has chosen e-SignLive to increase its value with its business customers and to deliver an exceptional online customer experience."
For more information about integrating e-SignLive into your business, visit http://www.e-signlive.com.
About Signature Bank
Signature Bank is wholly owned by Signature Bancorporation, Inc. Signature Bancorporation, founded in 2006, is one of the largest privately funded de novo bank holding companies ever established in Illinois. Based in Chicago, Signature Bank specializes in middle-market commercial banking and is a full-service retail bank offering a full breadth of financial product lines to consumers. Signature Bank offers a unique balance of relationship-driven service with leading-edge technology to provide customers with the personalization they expect from a community bank and the technology capabilities they demand from a national bank. Visit Signature Bank online at http://www.signature-bank.com. Member FDIC.
About e-SignLive™
e-SignLive™ is a premier online electronic signature service targeted primarily at the large to mid-market, small businesses and government organizations that are regulated and compliance-driven, where security, legal evidence, auditability and trust matter. Powered by Silanis, the same e-signature technology trusted by the US Army and the world's largest banks and insurance companies is now available online, anytime, anywhere, and at a friendly price. Choose e-SignLive when signatures matter to your business™.