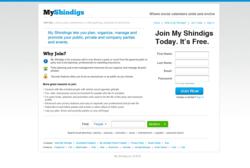 MyShindigs.com is one beacon of many working diligently to help get the North American economy back on track
Boston, MA (PRWEB) March 07, 2012
The newly released website MyShindigs.com is helping to inspire enterprising event and party entrepreneurs in reigniting North American principles of hard work, self-sufficiency, friendship, and perseverance. Anyone and everyone who enjoys social interaction of any kind including throwing parties and events for business or pleasure is converging on MyShindigs.com; a social networking website that helps users to plan, organize, manage and promote their events.
'We have launched the first beta version with all of the core features that can be found on more expensive event planning software websites, while at the same time offering innovative features like being able to follow those party hosts you are most interested in' Says Jason Andrews, co-founder. 'In addition to having all of the important party and event invite and management tools, we have also added an industry specific jobs posting area for those seeking a career locally' Notes Matthew Tautt, co-founder.
The website is free to everyone and has all of the necessary party and event planning features required for organizing smaller get-togethers or parties to larger events of several thousand people. The centerpiece and main feature of the website is the Shindig Calendar where members can keep track of all of their social events of interest and receive alerts involving local parties and parties that notable hosts of interest happen to be organizing. The site also boasts a resource and forums section where party and event professionals and entrepreneurs may share industry related resources like budgeting templates or ask questions of one another regarding the best local DJ or photographer for an event they are planning. All of these features assist in bringing the online world community closer together.
'Aside from the serious party planning tools MyShindigs also offers more light-hearted and unique features like the matchmaking feature as well as being able to vote other members as 'Party Animals' or 'Party Poopers' Adds Matthew.
MyShindigs.com is a powerful tool in helping anyone interested in organizing and profiting from parties and events to begin to do so immediately in a step-by-step manner. As with any social platform the site does take some time to getting used to, but once members become familiar with all of the features from creating and sending invites to adding videos and photos through to promoting to other members around them users will soon realize the ways in which the site can help them maximize profits from their events.
The co-founders say the first version has many useful features for event industry entrepreneurs, but the real innovations are to come in the second iteration of the site. 'To show our gratitude we are offering free access to the website for early adopters for as long as possible including some of the more advanced features that are still to come' Says Jason.
With many economists projecting new job creation to come from the private sector; MyShindigs.com is one such platform poised to help other entrepreneurs enter into and prosper in the event and party planning industry. 'At the end of the day if we've helped one more person start a new business or have helped an event organizer to expand their network and contact new followers through promotion to their events then we've done our job' Say the co-founders.
In addition to the many event facilitation features on the website, MyShindigs.com acts as a great link between event entrepreneurs wishing to connect with new business prospects and partners in various regions of interest. MyShindigs is one beacon of many working diligently to help get the North American economy back on track one party and event at a time.
About MyShindigs
MyShindigs is a social networking platform that specializes in allowing members to plan, organize, manage and promote their public, private and company events and parties. MyShindigs allows users to search out, share, follow and join each other's events and parties of interest to expand their social calendar throughout their lives. For more information, visit http://www.myshindigs.com.