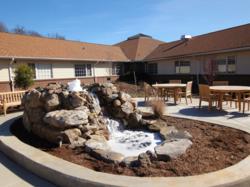 "After 25 years of outstanding service to older adults, and the completion of our newly expanded and renovated health care center, we wanted to recognize these occasions with a celebration," said Donna Sprinkle, Executive Director of the community.
Thomasville, NC (PRWEB) March 08, 2012
On March 15th Piedmont Crossing will be celebrating their 25-year history in the Thomasville, NC community. They will also be hosting an open house to present their new household models of care to the community.
The household model of care, in contrast to a traditional skilled nursing environment where the focus is on the efficient delivery of medical treatment, focuses on the residents who live there. Each resident receives 24/7 care and services in a community setting that is a home, and not just "home-like".
Piedmont Crossing's households revolve around the residents who live there and the choices they make about their lifestyle. What really sets the households apart is the philosophy, and medical and support staff are actively being trained to create an environment for the residents to grow and thrive.
Piedmont Crossing is very proud of their 25-year history and especially proud of their new households and newly renovated health care center. They are inviting everyone to join them as they dedicate the new buildings with a grand opening ceremony, with speakers such as US Congressman Howard Coble, Thomasville Mayor Joseph Bennett and Ray Deal, Vice Chair of United Church Homes and Services (UCHS) Board of Directors.
Piedmont Crossing, a ministry of United Church Homes and Services is a not-for-profit corporation organized in 1986, now celebrating its 25th anniversary of exceptional care to older adults. Piedmont Crossing employes over 200 people and is home to nearly 270 residents. UCHS is a provider of senior living opportunities and programs of outreach serving over 1200 older adults through three continuing care retirement communities located throughout North Carolina and Virginia.
To learn more about the 25-year tradition of excellence and first-class amenities for active older adults, and the new household living concept at Piedmont Crossing, visit http://www.piedmontcrossing.org or call 336-474-3605.
Joy Cline
United Church Homes and Services
828-465-8014