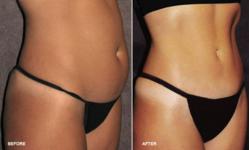 Traditionally, the approach to tummy tuck surgery has been 'take out as much skin as you can, pull it tight, and sew it up.'
(PRWEB) March 07, 2012
While the removal of loose skin and fat are the steps involved in nearly every tummy tuck procedure, Houston plastic surgeon Dr. Chris Patronella's introduction of an innovative, modern new approach to the procedure—the True Form Tummy Tuck™—represents a sleek advance forward in plastic surgery, producing stylishly-detailed results not typically delivered by the standard tummy tuck.
Dr. Patronella said, "Traditionally, the approach to tummy tuck surgery has been 'take out as much skin as you can, pull it tight, and sew it up.'"
The straight-as-a-board artificial look this produced left Dr. Patronella dissatisfied, who noted that patients' postsurgical tummies—though completely flat and smooth— lacked the natural character and subtle definition of the muscle features that can be seen on a youthful, good-looking abdomen.
Though their results would have earned an A plus according to the methods taught in clinical training, patients instinctively knew it was a look that was different from what they'd had before having babies, leading one woman to remark, "My abdomen is so flat, it doesn't have any shape!"
Challenged to create surgical results that more authentically reproduced the physical attributes of the naturally attractive abdomen, the surgeon studied photos of youthful, attractive abdomens, identifying the common features that characterized them and contributed to their overall beauty. Gradually, he began incorporating small steps into the tummy tuck procedure to recreate these characteristics, using techniques that were typically reserved for other areas of the body.
His endeavor met with resounding success, sending patient satisfaction rates soaring, and inspiring the launch of a website devoted exclusively to his True Form Tummy Tuck™—a procedure that represents the culmination of his efforts to perfect tummy tuck surgery.
In the procedure, Dr. Patronella not only redefines the abdomen's soft anatomical nuances, he also focuses on creating smooth transitions between all areas, eliminating the most common abdominoplasty pitfalls he sees among his revision patients: an abdomen with looser skin above the belly button and tight skin below it, and an odd-looking "step-off" where the tucked skin meets the pubic hairline—an issue that results when there is an uneven tissue thickness between the areas above and below the incision line.
To visually complement the abdomen's smooth new contours, the surgeon uses contouring techniques to give the waist more slender proportions and a graceful, longer look that tapers toward the waist.
"The waist and hips are a critical element in ensuring the abdomen has an attractive appearance," noted Dr. Patronella. "If you create a nice abdomen, but you are inattentive to the
appearance of the waist, it will be obvious that the look was surgically created."
It's a surgery that often produces a transformation in self-image that is as impressive as the aesthetic change it creates. For Dr. Patronella, that is the greatest reward and the one that reflects the measure of his success in achieving his original goal.
He noted, "While no plastic surgeon can perfectly duplicate what is naturally created, I believe this procedure closely captures and restores the simple, sensual beauty and elegance of the abdomen in its true form."
Dr. Chris Patronella is an internationally renowned plastic surgeon whose gifted surgical skill,
innovative surgical techniques, and contributions to optimize the care and safety of patients have led him to receive numerous honors, awards, and speaking invitations.
In addition to being selected as one of the United States' leading providers of plastic surgery in a Goldline Research study published in Forbes magazine, Dr. Patronella's physician peers have consistently voted him one of Houston's top plastic surgeons and the physician to whom they would send their own family and friends in polls conducted by Houston magazines.
As one of the nation's most respected body contouring specialists, Dr. Patronella was invited by Ethicon, Inc.—a Johnson & Johnson subsidiary—to participate on a national board of advisors charged with the mission to develop safety and procedural recommendations regarding body contouring for weight loss patients. In addition, he has been invited to share his extensive expertise in refining techniques and improving the results of tummy tuck surgery and other body contouring procedures in presentations to plastic surgeons at meetings hosted by the International Society of Aesthetic Plastic Surgery and the Texas Society of Plastic Surgeons.
For Dr. Patronella, patient safety is a strong career focus that has led him to receive some of the industry's most prestigious awards for his work related to the subject. The American Society for Aesthetic Plastic Surgery named his research paper, "Thromboembolism in High Risk Surgery," which focused on improving safety in high risk aesthetic surgery, the best Aesthetic Surgery Journal article of 2008. The Texas Society of Plastic Surgeons honored him with the group's Best Presentation Award at is 2006 annual meeting for his insightful analysis of the key factors that compromise and maximize the safety of patients who undergo major body contouring procedures such as abdominoplasty in conjunction with large volume liposuction.
Dr. Patronella received his medical doctor degree from the University of Texas Medical School in Galveston, Texas. Following his internship and surgical residency at the Ochsner Clinic in New Orleans, he completed his plastic surgery fellowship at St. Joseph Hospital in Houston, Texas. He is board certified by The American Board of Plastic Surgery, and holds the prestigious honor of being a Fellow of the American College of Surgeons and a Fellow of the International College of Surgeons.
To read more extensive information about Dr. Patronella's work to improve cosmetic plastic surgery results and safety, please visit his websites, http://www.tummy-tuck-specialist.com and http://www.PatronellaMD.com.