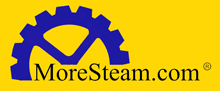 MoreSteam is the first and only company to fulfill the international demand for advanced e-Learning in multiple languages.
Lewis Center, OH (PRWEB) March 07, 2012
MoreSteam.com, the leading global provider of online Lean Six Sigma (LSS) training and Blended Learning support technologies, has expanded its international course catalog with the release of a new Brazilian Portuguese version of its 80-hour Lean Six Sigma Green Belt. With this new version, MoreSteam now offers its hallmark Green Belt in five languages, a first for any provider of online process improvement training. Global Lean Six Sigma deployments finally have access to comprehensive, cost-effective and consistent e-Learning for their Brazilian employees.
With the increased reliance on a global supply chain, multinational corporations have begun to expand their US- and Euro-centric process improvement programs to divisions and factories in non-English speaking countries. One challenge is to cost-effectively deliver and maintain highly technical training in multiple languages without sacrificing the quality and consistency of the materials and message. Corporations have increasingly turned to MoreSteam.com's e-Learning and Advanced Blended Learning - the combination of online and classroom-based, active learning components – as the best way to accomplish this mission. With MoreSteam's new language versions, training groups can confidently deliver their message of process improvement and waste reduction and establish world-class capability among an even wider audience.
MoreSteam.com's new Brazilian Portuguese-language Green Belt joins the previously released English, Chinese, German, and Latin American versions of the 80-hour course. Green Belt training is by far the most popular level of training required for Lean Six Sigma employees, and Green Belts are essential members of every Lean Six Sigma project team. Students who complete MoreSteam's Green Belt training receive a solid foundation of the theory, composition, and implementation of a process improvement initiative.
As with MoreSteam's English-language Green Belt course, the new Portuguese version is delivered on-demand in a 100% online and self-paced multimedia format. The new course uses Microsoft® Excel®-based tools and templates to teach all of the basic analytical tools necessary to lead and manage complex improvement projects that produce bottom-line results. It delivers the same depth and high quality of interactive online training as every MoreSteam course.
"Brazil's growing economy and dynamic role in the global supply chain make it an exciting and challenging region. We're proud to have expanded our offerings to serve not only our existing customer base but also those companies faced with the challenges of rapid growth in the Brazilian marketplace." said Bill Hathaway, President of MoreSteam.com. "MoreSteam is the first and only company to fulfill the international demand for advanced e-Learning in multiple languages. We work hard to fully support the training efforts of our many international customers and business partners, and are eager to participate in their Brazilian-based initiatives."
Lean Six Sigma and continuous improvement deployments and individual practitioners can purchase licenses for any or all of the online Green Belt courses through MoreSteam.com. Deployment leaders and interested individuals can learn more about these language course options by visiting the MoreSteam.com Web site: http://www.moresteam.com/lean-six-sigma/languages.cfm.
About MoreSteam.com
MoreSteam.com is the leading global provider of online Lean Six Sigma training and Blended Learning technology, serving over 2,000 corporate clients and over 50% of the Fortune 500 with a full suite of Lean Six Sigma e-Learning courses, EngineRoom® data analysis software, TRACtion® online project tracking software, Crucible® online testing, and SigmaSim® online DMAIC simulations and games. MoreSteam.com was launched in the year 2000 in response to the high cost of traditional Six Sigma training and tools, and has now trained over 320,000 Lean Six Sigma professionals. MoreSteam's mission is to enable people to advance the performance of their organizations by delivering powerful tools for process improvement to the widest possible audience at the lowest price available.