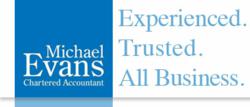 Not only did Michael save us money, but he was thorough, courteous, efficient and a pleasure to work with.
Pickering Ontario Canada (PRWEB) March 13, 2012
After almost 14 years of honing his practical skills at two mid-sized chartered accounting firms, Mike Evans opened his own public practice in 1999. Driven to realize a life-long dream of making it on his own, Mike set out to brand himself as an advisor to small business owners.
His brand promise revolved around providing critical financial and business advice to non-financial managers in an atmosphere of optimal customer service. Mike's brand of customer service guarantees his availability throughout the life of each project.
Over the years, as a Chartered Accountant, Michael has forged solid relationships with his clients by investing his time to be there for them as their sounding board. Most importantly, he takes the time to learn everything he can about his clients' businesses. The resulting effect of his due diligence—his persistent attention to the details of his clients' businesses—is his clients' peace of mind.
In terms of the new company website with added SEO effects by Toronto Search Engine Optimization company, IFM Web Services, Mike offers, "When it came time to redevelop and improve our old website, we also wanted to better promote our company in the way we market our services and to better convey the level of services we offer." Mike also adds, "We've done very well with repeat business and referrals over the years, however, I've recognized that the Internet offers more significant marketing opportunities by reaching out to those looking for a reliable Accounting firm that takes a passionate approach towards their clients financial success. We are able to reach out to those people and businesses with the help of Raintree Studio and IFM's SEO Services."
Mike says, "Since every incorporated business is required to produce and file annual financial statements and corporate income tax returns, we manage each step of the process to ensure things run smoothly and that tax deadlines are met. Missing tax deadlines can be very costly." Mike goes on to say, "Sometimes, because of banking covenants, banks require a review engagement report – and, Increasingly, non-profit organizations are being asked by granting agencies, sponsors and stakeholders to produce audited financial statements."
Keeping up-to-date on all accounting and tax laws as well as related regulations, Mike and his staff ensure they can take advantage of every applicable deduction and credit.
This is what can be expected when choosing Mike Evans and his team.

Peace of mind
Complete and thorough jobs delivered on time
Frequent feedback throughout the project
Proactive consultation on related topics/issues
Friendly and accessible service
Mike Evan, Chartered Accountant, located in Pickering Ontario, has served clients for almost 14 years. Mike takes care of personal and business accounting matters and is an advisor to small business owners.
Telephone: 905-420-9637
Website: http://www.gtaaccountant.com/
Address: 1730 McPherson Court, Unit 6
Pickering, Ontario
L1W 3E6 Canada