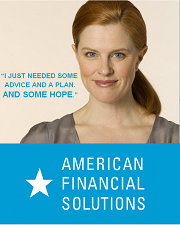 You do not need to apply to different lenders. Instead, look for the lenders offering the best interest rates on debt consolidation loans.
Seattle, WA (PRWEB) March 07, 2012
When faced with the inability to pay their debts, many people turn to a debt consolidation loan. According to American Financial Solutions (AFS), the idea of having one monthly payment, being able to catch up on debts and owing only one debt is very inviting. In addition, the interest rate paid on debts may be less on this type of loan.
If a debt consolidation loan seems like an option to help manage bills there are steps to take before and after applying for the loan. Below, AFS offers tips on the application process and what to do afterwards
Before tackling the application process, there is one rule people must consider when paying off debt. If the debt consolidation loan is used to eliminate credit card debts, those accounts should be closed. According to Becky House, Education Manager at American Financial Solutions, "people will pay off their credit cards, but fail to close them. Eventually the cards are used again and the person ends up with even more debt – the loan and the reused credit cards."
Successful loan application process tips
[1] Complete a budget. Know how much money you have to put towards your loan payment as well as the rest of your expenses.
[2] Check your credit reports. Any lender will check your credit report before offering you a loan. You need to know what they will see. If there are any negative items, be prepared to explain them. You may also try to correct any errors in the report. This will take more than two or three days, but can mean the difference between a debt consolidation loan denial and approval. You can receive a free copy of your credit report by visiting http://www.annualcreditreport.com
[3]Gather all of your bills together and make a list of the ones you want to include in the consolidation loan. Include account numbers, balances and payment addresses. In general, home loans and auto loans are not included in debt consolidation loans.
[4] Search for lenders. You do not need to apply to different lenders. Instead, look for the lenders offering the best interest rates on consolidation loans.
[5] Apply to the lender you select. Remember that applications to different lenders can negatively impact your credit, so avoid multiple requests.
[6] Approved – pay off debts included in the consolidation loan and close open credit card accounts. Closing the accounts will not remove them from your history or your credit score. Positive credit accounts can remain on your credit report as long as the creditor continues to report them.
[7] Denied – if your application is denied the creditor will provide you with the name and contact information for the credit bureau used to pull your credit report. You should also ask them lender for an explanation as it may have been that they were concerned about the amount of loan you requested.
In addition to speaking with the lender, you may consider contacting a non-profit, certified credit counseling agency to discuss other options for repaying debt. Rather than providing a loan, credit counseling agencies can help you review several methods for managing money and bills.
One option a counselor may discuss is similar to a debt consolidation loan. It is called a debt management plan. A debt management plan (DMP) provides one monthly payment and creditors may reduce interest and fees on some accounts, because you are working with the credit counseling agency. Unlike a consolidation, a DMP is not a loan. To learn more about the pros and cons for this type of loan, debt management plans and other debt repayment options visit http://www.myfinancialgoals.org.
American Financial Solutions (AFS) is a non-profit 501(c)3 financial education and credit counseling agency that helps people find solutions for managing their money and improving their financial lives. Since 1999, AFS has helped individuals across the United States through one-on-one counseling, classes and the use of debt management plans. AFS is a member of the National Foundation for Credit Counseling (NFCC) as well as the Association for Independent Consumer Credit Counseling Agencies (AICCCA). AFS is also accredited by the Council on Accreditation (COA) and has an A+ rating by the Better Business Bureau. Find us and add us on Facebook, Twitter and Google+.