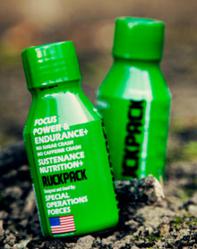 "Xylitol is healthier because it's organic and more in keeping with the RuckPack brand," said Major Robert Dyer.
Anaheim, Calif. (PRWEB) March 08, 2012
RuckPack, an energy boost drink created by a veteran Marine Corps officer based on his battlefield experiences in Afghanistan, announced today it has changed the sweetener in the shot to Xylitol as a healthier alternative to Sucralose.
RuckPack, a caffeine-free shot that launched last November, provides a single source of supplemental nutrition for everyone, from troops in the field to elite athletes and other active people seeking peak mental and physical performance from natural sources. The company will be in attendance at the Natural Products Expo West this weekend in Anaheim.
"Xylitol is healthier because it's organic and more in keeping with the RuckPack brand," said Major Robert Dyer, now an economics professor at the United States Naval Academy, who created the shot. "Xylitol is a natural substance found in fibrous vegetables and fruit, as well as in corn cobs and various hardwood trees, such as birch. Even though it costs more, we decided to make the change because it is so much better for our customers."
Numerous studies have shown that Xylitol is not only a safe, natural sweetener without the negative side effects of sugar and artificial substitutes, it is also good for teeth, stabilizes insulin and hormone levels, and promotes good health. Dyer said RuckPack shots with the new formula, now being manufactured in the U.S. for the first time, would be available to consumers in late March or early April.
RuckPack had its origins in January of 2008 when Dyer, a highly decorated officer, participated in several extended combat reconnaissance patrols with a Marine Special Operations company in the Helmand River Valley, one of the most dangerous areas of Afghanistan.
Dyer and other support units carried with them multipacks of vitamins and supplements that they purchased from military stores or online civilian providers, sharing with one another, but they were frustrated by the extreme inconvenience of having to take up to twenty pills and capsules per day from multiple sources.
RuckPack is available online at http://www.RuckPack.com and selected retail outlets. A pack of 24 bottles sells for $54.95 online. Individual bottles are $2.99.