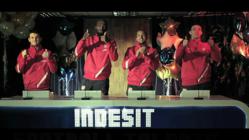 Shooting with celebrities can be quite hard and bring a lot of pressure: it's a matter of timing, efficiency and coordination.", Davide Boscacci, JWT Italia
London, UK (PRWEB UK) 8 March 2012
The collaborated production was brought to London by Bedeschi Film (Italy) and J Walter Thompson (Italy) and involved filming four of Arsenal's premiership players, as judges for The Indesit Football Talent.
The challenge for The Fink Agency was to transform the press room at the Arsenal training ground into a party scene, as the players are only allowed to participate in sponsorship events at the training ground itself once the season has commenced. Armed with hundreds of balloons, miles of curtains and more than 20 extras, the Fink production team transformed the press room into one huge party! …of course, with the promise of returning it back to its original state ready for Arsene Wenger to talk with the media the very next morning.
Fink also supplied a huge range of Props, included a "custom made" jury desk which was constructed by RDW Scenery, a DJ from Calico Entertainment, vinyl panelling and a mirror ball.
"We are all very pleased with this work", comments Davide Boscacci, Associate Creative Director for JWT Italy, "Shooting with celebrities can be quite hard and bring a lot of pressure: it's a matter of timing, efficiency and coordination."
The film produced by Fink is one of a series of four, which will kick start the challenge laid out by Indesit. The film went live on the 20th February 2012 and asks for anyone with football talent to be part of the challenge. Budding Walcott's Wilshere's and Henry's need to register on the Indesit website http://www.football.indesit.com or Indesit's FaceBook page and upload a video showcasing their hidden talents whilst demonstrating a true love for the game.
These films will go through to be judged in two stages, the first will be by the on-line community who will short list the contestants down to 250. The second stage will be judged by a panel made up from the Indesit sponsored European football teams who will then announce four teams made up of 16 players each.
The celebrity judges will consist of AC Milan's Boateng, Aquilani, Emanuelson and Bonera, Arsenal's Vermaelen, Djorou, Walcott and Wilshere, PSG's Lugano, Maxwell, Jallet and Hoarau and Shakhtar Donetsk's Mkhytaryan, Srna, Luiz Adriano and Pyatov.
The lucky winners will meet up on the 15th of May in London and go on to be coached by international football super stars and play in the world famous Emirates Stadium wearing their team's colours.
For more information on the production of the film, please contact the London based production company The Fink Agency.