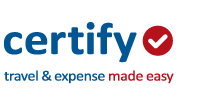 Certify reported revenue growth increased by 310% in 2011 compared to the prior 2010
Portland, Maine (PRWEB) March 07, 2012
Certify, a leading online travel and expense management company, today reported growth results for 2011, proving to be the strongest year for the business.
Certify reported revenue growth increased by 310% in 2011 compared to the prior 2010 calendar year. As revenue increased, users of the expense management service grew in excess of 500% from the previous year with the vast majority of growth coming from corporate accounts.
"It is great to see the dynamic growth in our business," said Bob Neveu, President of Certify, "The strong user adoption rates from our clients indicates the Certify solution is truly saving users time and money completing expense reports. These numbers, coupled with our recent customer satisfaction survey, provide a clear indication that Certify is world class solution for travel and expense management."
The accelerated growth of Certify continues as clients discover the strong impact an integrated, online expense management system can have on its bottom line. Certify recently conducted a client satisfaction survey analyzing the benefits of implementing an expense management solution and the survey indicated:

67% of clients see an enhancement in expense management processes
59% experience faster reimbursement periods
52% experience shorter approval periods
42% realized greater instances of corporate travel policy compliance
The importance of improving company compliance and driving down excessive travel and expense costs is a constant pressure for companies of all sizes. As indicated by Certify's survey, a continued solution for such demand is to implement an integrated and automated travel and expense solution, providing the tools necessary to measure and monitor corporate T&E spend.
To learn more about Certify visit http://www.certify.com.
About Certify
Certify, LLC, is an online travel and expense management company that provides expense report and travel booking solutions to corporations and individuals. The company provides a true SaaS on-demand travel and expense management solution which is easy to use, quick to deploy and affordably priced for clients of all sizes. Founded in 2008, and headquartered in Portland, Maine, Certify is financed by the founding team and a group of angel investors. For more information about Certify please call 207.773.6100 or visit http://www.Certify.com.