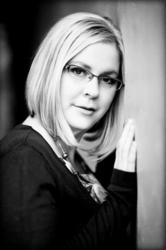 I don't want any woman to feel trapped by the absolute of parenting or abortion. Adoption is a wonderful alternative, and one that can bring great joy and freedom
Charlotte, North Carolina (PRWEB) March 08, 2012
In her groundbreaking new book entitled Delivered, My Harrowing Journey as a Birthmother, author Michelle Thorne details her experience choosing an alternative option for unplanned pregnancy—adoption.
Thorne has launched a new website http://www.deliveredbirthmother.com, to support the book and the issues. She is speaking to groups everywhere hoping to inform and educate woman, teens and families about adoption.
Delivered is a book for anyone who has been touched by adoption, and is an intimate look at a girl in crisis. Thorne, who placed her child for adoption in March 2000, recounts her true story of pain and redemption sharply realized. "It's very honest. I didn't hold back," confesses Thorne. "I wanted the reader to know what the experience was like for me. I wanted other women to know that it can be done in a healthy way, with healing and a normal life to follow."
Thorne, who says she saw the "Father-heart of God" through the adoption process, wrote Delivered in response to a calling on her life.
"The book is intended to bring awareness about adoption, specifically from the perspective of a birthmother. My hope is that it will encourage young women in the same situation to consider life, and encourage others to love birthmothers well during such a vulnerable time in their lives," says Thorne.
"I don't want any woman to feel trapped by the absolute of parenting or abortion. Adoption is a wonderful alternative, and one that can bring great joy and freedom."
Delivered is currently available at http://www.deliveredbirthmother.com. The official launch party is scheduled for Saturday, March 10, 2012 from 4PM until 6PM at The Evening Muse in Charlotte, North Carolina. Media should contact Chuck Robbins for interviews or other inquiries.
"Delivered, My Harrowing Journey as a Birthmother is raw and revealing. I hope it will change the way people see adoption."