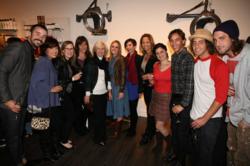 Our success is due to our clients; we go where they want us to be."
Laguna Beach, CA (PRWEB) March 09, 2012
Over the course of his 20-plus years as one of California's preeminent hair stylists and co-owner of the Orange County based Vogue Salon, Donato Bianchini will be the first to admit that he's far from perfect. "Yeah, I may have made a mistake or two since I founded Vogue Salon," Donato laughs as he reflects on the past two decades at Vogue Salon. "Somethings you just have to learn the hard way; other times, you know you're making the right decision instinctively."
It's Donato's instincts that have kept Vogue Salon relevant in the beauty industry and in Orange County, something that's not easy to accomplish and even harder to sustain. Given the success that Vogue Salon has experienced since its inception in Newport Beach, CA in 1988, one might think those instincts might tell Donato and his team of over 45 staff and stylists to not fix what isn't broken during the economic downturn. On the contrary, it's those instincts--the same instincts that were behind the opening of a second Vogue Salon location at the St. Regis Resort and Spa in Dana Point, CA in 2001--that were now the driving factor behind the decision to relocate to from the St. Regis to Laguna Beach, CA . . . during the economic downturn.
Just a few, short months ago in November of 2011, the staff and stylists at Vogue Salon St. Regis closed the doors after 10 successful years. We enjoyed our time at the St. Regis and created many relationships and memories [there] but our clients wanted to see us in Laguna," said Bianchini about the decision to relocate the salon. "Our success is due to our clients; we go where they want us to be. It was definitely the right time and the right decision. "
After a manic period of moving and remodeling, Vogue Salon Laguna Beach opened for business at the Old Pottery Place shopping center on PCH in Laguna Beach adjacent Laguna hotspots Sapphire and K'Ya.
The grand opening of the salon took place on December 1st, 2011 and coincided with the "First Thursdays Art Walk." Approximately 200 people attended the grand opening at Vogue Salon Laguna Beach which is located at 1200 S Coast Highway. "We wanted to make a quiet entrance into Laguna Beach [for the grand opening] and planning our opening with Art Walk was definitely the right decision," said Salon Manager of Vogue Salon Laguna Beach and Donato's wife, Antonietta Bianchini. "We wanted to share that day with our clients, staff, friends, and of course, the Laguna Beach community." Smiling, Antonietta adds, "And yes, we wanted to have a good time doing it as well." Finger foods were provided by Sapphire and were accompanied by free flowing champagne. Orange County DJ Eric Carden provided the music and set the mood for the event.
Vogue Salon Laguna Beach, like it's sister location in Newport, will feature products from Kérastase, Bumble and Bumble, and L'Oréal Professionnel. And like it's older sister, Vogue Salon Laguna Beach and its team of stylists will take part in a world class continuing education program designed to ensure stylists stay ahead of trends while mastering the foundational skills needed to keep them at the forefront of their field. There are two different educational tracks (one for assistants and another for stylists) at Vogue Salon with almost 100 classes taught annually between the two programs. "We pride ourselves on a lot of different things at Vogue Salon but we're especially proud of our training program," said Steve Hernandez, stylist and Educational Director at Vogue Salon. "We are artists and our craft benefits from talent and hard work equally."
Hard work is something that the team at Vogue Salon is not afraid of. "Relocating during the holidays in a recession has been tough but we're getting settled in at Laguna," adds Donato. "I'm not sure how this is all going to turn out but instincts we're going to do well."
About Vogue Salon
Vogue Salon is a nationally recognized hair salon with locations in Laguna Beach and Newport Beach, California that's been in business for over 20 years. Vogue Salon and its team of 45 stylists and staff members are known for it's cutting edge styling, continuing education program, and its highly competitive assistant program. Love Your Hair.
Please visit http://www.facebook.com/myvoguesalon for information about hair care tips, event info, and promotions at Vogue Salon.
For appointments and general inquiries, please call Vogue Salon Laguna Beach at (949) 376-7600 and Vogue Salon Newport Beach at (949) 752-5882.