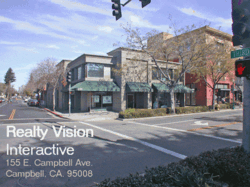 Social Media is not meant to replace Personal Contact
Campbell, CA (PRWEB) March 08, 2012
Rene Duenas and Realty Vision - Realty Vision Interactive Location "presences" will be in highly visible location with high foot traffic and low square footage. These presences will have touch screen windows that enable the consumers to view featured listings in the area of their choice [MLS], and educate themselves about the local real estate market. Additionally, Realty Vision locations will allow local brokerages to feature their properties in featured window displays. "Floor time" in these presences will be highly sought after by agents because of the location, traffic and unique technologies used in the presence.
The continuous change of computer and mobile technologies combined with Internet content distribution channels enable Realty Vision to empower its agents to work "remotely, efficiently, and smartly".
Realty Vision will begin to offer by mid year 2012, franchise opportunities to experienced brokers who share same values and commitment to client service.
Realty Vision was founded by Rene Dueñas, a REALTOR with over 25 years experience in the Silicon Valley. He has worked for some of the largest brokerages in the country and has synthesized the best practices from these firms to create a brokerage that fits with today's changing real estate market and sophisticated real estate client.
Based in Campbell, CA. Realty Vision is a full real estate services company, first, created on the in Internet in Los Gatos, CA. REALTYVISION trademark by REALTYVISION.COM, INC. in Campbell, CA, 95008. REALTYVISION.COM, INC. incorporated in Delaware. REALTYVISION.COM, INC., a private company. Inquiries to: info(at)realtyvision(dot)com