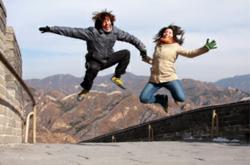 Our new China tours are designed to accommodate plenty of shopping time alongside lots of major sightseeing around China at a very affordable cost
Vancouver, BC (PRWEB) March 07, 2012
Much like the mighty Great Wall, Forbidden City, Terra Cotta Warriors and other famous landmarks, China is also known for a number of its exquisite goods and handicrafts. Many of these goods are traditional items dating back to the ancient era popularly used by the emperors and possessed by members of the affluent society. Silk, for one, was a staple trade merchandise and now a favourite souvenir.
Chinapac's new amazing shopping tours fuse sightseeing and shopping into two great value tours for your buck. At just $299, participants can enjoy an exciting 8 day China tour including accommodations, meals, transportation, tour and guide.
"Many of our clients expressed their wish to have had more time shopping for souvenirs in their trips," said Chinapac president Jenny Soares. "Our new China tours are designed to accommodate plenty of shopping time alongside lots of major sightseeing around China at a very affordable cost."
The shopping tours are offered in two exciting programs. 8 Day East China covers Shanghai and nearby cities of Suzhou, Wuxi, Nanjing and Hangzhou, highlighting the serene lakes and scenic views of these eastern cities while visiting local shops including silk, jade, pearl, porcelain and the famous Shanghai medicine store. 9 Day Beijing visits China's famous sites such as the Great Wall, Forbidden City and the ancient towns of Chengde and Tianjin with shopping stops at the cloisonné factory, jade, silk, pearl and tea shops. It also includes a tour of the Hutong, taking guests through the narrow alleys of old Beijing while riding a traditional Chinese pedicab.
Additionally, these China tours are replete with tasty and special dinners at no extra cost. Enjoy delicious local cuisines such as Beijing duck dinner, Chengde hot pot, dumpling dinner, and other local flavoured meals.
Chinapac's amazing shopping tours have 6 scheduled departures in 2012. 8 Day East China Shopping Tour is offered at only $299 land package per person; 9 Day Beijing Shopping Tour at $349 land package per person.
For more information about Chinapac's Amazing Shopping Tours, visit http://www.chinapac.ca or contact 1-800-661-8182.
Chinapac International specializes in travel service to China and the Orient and is proud to celebrate 27 successful years in the travel industry as the premier travel package tour operator to the People's Republic of China and South East Asia.
###