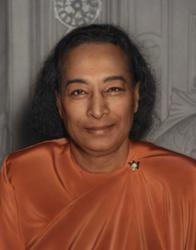 "If we had a man like Paramahansa Yogananda in the United Nations today," said former Ambassador of India to the U.S., Dr. Binay R. Sen, "probably the world would be a better place than it is."
Los Angeles, CA (PRWEB) March 07, 2012
March 7, 2012 marks the 60th anniversary of the mahasamadhi (a God-realized yogi's final conscious exit from the body) of Paramahansa Yogananda, founder of Self-Realization Fellowship (SRF) and widely regarded as the father of Yoga in the West. His best-selling life story, Autobiography of a Yogi, has been hailed as one of the 100 most influential spiritual books of the 20th century and has introduced millions of Westerners to India's ancient philosophy and science of Yoga.
The 60th anniversary of Yogananda's passing comes at a time of great transition and uncertainty in the world, prompting more and more people to look at life from a deeper spiritual perspective, to seek a sense of inner peace and security that will withstand changing outer circumstances, and to discover the shared values that unify humankind, while acknowledging cultural and religious diversity. The core of Yogananda's mission addressed these very concerns, and his universal teachings provide answers as relevant to seekers today as when he began his mission more than 90 years ago.
Born in India in 1893, Paramahansa Yogananda came to the West in 1920 as a delegate to the International Congress of Religious Liberals convening in Boston, Massachusetts. His address to the Congress, on "The Science of Religion," explored the common threads that unite the world's religions. That same year, Yogananda founded Self-Realization Fellowship (SRF) to help disseminate his teachings on the philosophy of Yoga and its time-honored Kriya Yoga techniques of meditation. His work in India is known as Yogoda Satsanga Society, which he founded in 1917.
Yogananda stayed in the United States for the better part of three decades, introducing Yoga and the art of balanced spiritual living through his extensive public lecture tours, his numerous books and other writings, and the centers he founded internationally.
"If we had a man like Paramahansa Yogananda in the United Nations today," said former Ambassador of India to the U.S., Dr. Binay R. Sen, "probably the world would be a better place than it is."
Paramahansa Yogananda passed away on March 7, 1952, in Los Angeles, following his delivery of a speech at a banquet honoring Indian Ambassador Dr. Binay R. Sen. Yogananda's passing received widespread coverage in the press, including The New York Times, the Los Angeles Times, and Time magazine.
With interest in his teachings at an all-time high, his society continues to grow at a remarkable pace. Under the direction of SRF President Sri Mrinalini Mata, one of Yogananda's closest disciples who was personally trained by him, his organization, Self-Realization Fellowship/Yogoda Satsanga Society of India, now numbers more than 600 temples, retreats, and meditation centers in 60 countries.
Today, the society upholds Yogananda's efforts on behalf of world peace and understanding through its continued operation of the SRF Worldwide Prayer Circle; and through its ongoing association with such interfaith groups as the Council for a Parliament of the World's Religions, the World Council of Religious and Spiritual Leaders (the first interfaith ally to the United Nations), the Global Peace Initiative of Women, and the United Religions Initiative, as well as with national, regional and local inter-religious and peace-seeking groups.
# # #