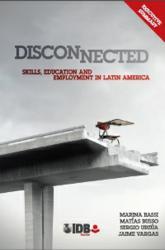 According to Marina Bassi, an IDB education specialist and one of the researchers who participated in the study, "Today, young people in the region who decide to look for employment immediately after completing high school, start at a disadvantage."
Washington, DC (PRWEB) March 07, 2012
Responsibility, communication, and creativity are some of the interpersonal skills demanded in today's labor market. Yet young people in Latin America and the Caribbean aren't developing these skills in school, according to an Inter-American Development Bank (IDB) study released today.
The study, which is based on two surveys, is entitled "Disconnected - Skills, Education and Employment in Latin America" (Desconectados - Habilidades, Educación y Empleo en América Latina). Its authors found a large gap between the skills learned at school and the ones the labor market demands from young people graduating from high school in our region.
The first survey consists of the answers obtained from more than 6,200 young people aged between 25 and 30 years, who were interviewed in Argentina and Chile. About 1,200 companies in Chile, Argentina and Brazil answered a second survey on demand for skills in jobs that typically require workers with high school diplomas.
###