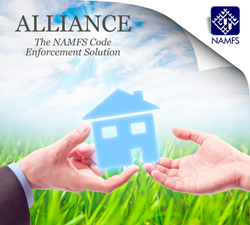 NAMFS recognizes the need for Code Officers to contact the appropriate party for resolution of property issues this release more than doubles the prior reach of ALLIANCE.
Stow, Ohio (PRWEB) March 07, 2012
The National Association of Mortgage Field Services (NAMFS), the premier trade association for the mortgage field service industry, is pleased to announce the release of a third round of enhancements to ALLIANCE – The NAMFS Code Enforcement Solution.
ALLIANCE is a free, web-based solution located at NAMFS.org that has been designed to provide a solution for the industry as it relates to the challenges in connecting code enforcement officials and national field service providers for the mortgage servicing industry.
This round of enhancements was concieved and facilitated through an industry working group composed of Code Officers and participating National Field Service companies. The primary focus of this release being:
Enhanced Data Collection:
Bulk import option for multiple properties, Capture of Vacant Property Registration information – inclusive of cost, frequency of registration, and the ability to upload the municipality specific form, Identification of Gated Community & HOA – capturing relevant HOA name and contact information
Improved Communication:
Notification options – provides of different notification frequencies identifying changes in status or additions to property information, Adding/Editing Comments – Code Officers given the option of providing this information for each property
Increased Exposure of Reported Violations:
Notification sent to National Field Service Companies outside of the current ALLIANCE participation roster
To date, ALLIANCE has served over 750 code enforcement officials in over 400 unique jurisdictions nationwide. The steady increase in participation since its initial release has enabled the program to thrive and adapt to meet the ever-changing needs of this industry. Getting started with ALLIANCE is quick and easy. Code enforcement officials can complete the process in less than 15 minutes by following the links on NAMFS.org.
On March 7, NAMFS will be hosting a webinar for both potential and current users, to demonstrate these enhancements and share the benefits that ALLIANCE offers the code enforcement community. Please log on to the NAMFS webinar page to register to attend this valuable session.
About NAMFS
The National Association of Mortgage Field Services, Inc. (NAMFS) is the premier trade association for the mortgage field service industry. We are dedicated to working with all entities of the industry from the Government Agencies and investors that set policy to the contractors and inspectors that perform the work