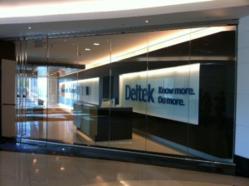 "It's amazing how fast they can put these things together; right now it's just a lot of empty space," said Kevin Iaquinto, Deltek's chief marketing officer. "But the design is very cutting edge. I expect this to be an award-winning space."
Herndon, Virginia (PRWEB) March 08, 2012
Headquartered in Herndon, Virginia with over 1,600 employees worldwide, Deltek is the leading global provider of enterprise software and information solutions for professional services firms, government contractors, and government agencies. Wishing to consolidate three of their U.S. based offices, Deltek kicked its massive renovation for a 158,000 square feet building that will house over 600 employees in Herndon, Virginia. The reconstruction incorporated green LEED building practices from architecture and engineering design firm HOK.
JD James, Inc. was responsible for the architectural millwork installations of cabinets, hardware, laminate and solid surface countertops, vanities with backsplash, shelves, reception desks and counters, wall panel systems, feature walls, acrylic panels and metal trim at glass walls. The custom architectural millwork installations manufactured by Mortensen Woodwork took place throughout the 6 floor building which included: a customer briefing center, event conference rooms, as well as reception areas, a boardroom, offices, kitchen areas, break rooms and restrooms.
"It's amazing how fast they can put these things together; right now it's just a lot of empty space," said Kevin Iaquinto, Deltek's chief marketing officer. "But the design is very cutting edge. I expect this to be an award-winning space."
JD James, Inc. (http://www.JDJamesCorp.com) is one of the Southeast's most sought after millwork companies. Because of their quality workmanship, professionalism and tenacity to get the job done, JD James, Inc. has been recognized by the Associated Builders and Contractors for their Excellence in Construction. You can contact JD James, Inc. at (850) 385-3234 or email them at info(at)JDJamesCorp(dot)com.