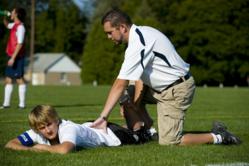 The new law protects the public by making the penalties more severe for practicing athletic training within the state without the proper credential.
Williamsport, PA (PRWEB) March 06, 2012
Whether they work regularly with an athlete on the field or rehabilitate a joint replacement patient in the Sports Medicine Center, 23 Susquehanna Health (SH) athletic trainers are pleased with the recent State of Pennsylvania legislation that now recognizes them as licensed healthcare professionals. The athletic training licensure bills (Senate Bills 957 and 967) were signed as Acts 123 and 124 by Governor Tom Corbett in December and became law February 20. Until then, athletic trainers were the only group of recognized healthcare providers in the state that were certified rather than licensed. The announcement of this new legislation came slightly more than a week before national Athletic Training Month is recognized in March.
"Being licensed puts us on par with other healthcare professionals in the eyes of the state," explains SH Outreach Athletic Trainer Jason Erlandson. "Athletic training has come a long way in the past 50 years―from team managers or coaches who learned how to tape ankles and became the "trainer" by default, to a highly regulated healthcare professional guided by scientific research."
The title athletic trainer is in effect a misnomer, as these healthcare providers are not exclusive to athletes nor are they focused on training athletes for their sport. Instead, athletic trainers are experienced in preventing, recognizing and treating injuries to the musculoskeletal system (comprised of bones, joints, muscles, tendons and ligaments) that can occur on the field, in the home or backyard or in the workplace. Athletic trainers work under the supervision of a licensed physician, possess at least a bachelor's degree from an accredited athletic training program, are required to pass a national board of certification exam to hold the ATC credential and must adhere to a national standard of practice and code of ethics. From now on, in order to practice in Pennsylvania, athletic trainers will also be required to apply for a license from the state's Board of Medicine or Board of Osteopathic Medicine.
Because the athletic trainers working in the Sports Medicine Center at Divine Providence Hospital or at one of 16 schools in Bradford, Clinton, Lycoming, Northumberland, Sullivan and Tioga counties are already certified by the state's Board of Medicine, they won't need to take any new action for licensure beyond renewing their license every two years. "The new law protects the public by making the penalties more severe for practicing athletic training within the state without the proper credential," explains Erlandson. "Under certification, an individual could perform duties of an athletic trainer as long as they are not referring to themselves as such."
All of Susquehanna Health's full-time athletic trainers are members of the Pennsylvania Athletic Trainers' Society (PATS), the largest state organization of certified athletic trainers in the nation. According to Erlandson, who serves as the PATS North Central Regional Representative, "the need for licensure was one of the reasons that PATS was formed in 1976. In the five years that I have been involved with the organization, significant developments have occurred. The result of 35 years of hard work by numerous individuals is that athletic trainers have gained licensure in Pennsylvania." For more information about Susquehanna Health Sports Medicine, please call 800-321-2WIN or visit SusquehannaHealth.org.
About Susquehanna Health
Susquehanna Health is a three-hospital integrated health system including Divine Providence Hospital, Muncy Valley Hospital and Williamsport Regional Medical Center located in northcentral Pennsylvania. Serving patients from an 11-county region, Susquehanna Health is a healthcare leader and has been recognized at the national and state levels for quality of care. Susquehanna Health offers a wide array of services that include cancer treatment, heart and vascular care/heart surgery, neurosciences including neurosurgery, orthopedics, urology, OB/GYN, gastrointestinal services, behavioral health, physical rehabilitation, home care, long term care, assisted living and paramedic/ambulance services.
###