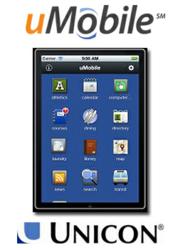 Gilbert, AZ (PRWEB) March 07, 2012
Unicon, Inc., a leading IT consulting services provider specializing in open source for the education market, announced today that it will offer a Rapid Start uMobile package for institutions needing to deploy an economic, next-generation mobile solution quickly and easily. With the Rapid Start uMobile package, institutions can deliver on-demand, authenticated mobile content via mobile browsers or native applications. Modules in the package include announcements, calendar, campus map, campus news/ RSS feeds, directory, search, videos, and custom static content (e.g. text or imagery). uMobile is open source software supported by Jasig. The Jasig community has developed optional modules that can be integrated with campus feeds/ information. These include athletics, computer lab alert, courses, dining menu, and laundry alert.
uMobile provides an enterprise framework for an institution to target its applications, content, and data in a mobile environment. Designed by and for higher education, uMobile's lightweight codebase contains authentication, groups and permissions, layout management, and preferences out of the box. uMobile is an extremely mature product with the support of a highly active open source community. uMobile's native app currently supports iPhone™ and Android™ devices. Browser-based mobile support is available for iPhone and Android, as well as smartphones based on recent versions of the Blackberry®, Windows Mobile®, webOS®, Samsung bada®, and MeeGo™ operating systems.
Unicon deployment services for Rapid Start uMobile include:

Institutional Environment Assessment
uMobile Server Installation and Configuration
Authentication (CAS server authenticating to a campus LDAP or Active Directory server)
Person Attributes (Server configuration to consume person directory attributes from a single LDAP or Active Directory source)
Branding and User Experience
Content Configuration (e.g., announcements, calendars, maps plus the institution's existing mobile elements)
App submission to the Apple® Store and Android Marketplace
Training
Institutions can deploy the Rapid Start uMobile package for $20,000. Unicon can provide hosting services for the Rapid Start uMobile package at an additional cost, to relieve the IT burden associated with an on-premise solution.
Learn more about the Rapid Start uMobile package.
About Jasig
Jasig, Inc., is a non-profit 501(c)(3), international consortium of educational institutions and commercial affiliates supporting open source software development and promoting open computing architectures for higher education. Jasig has been in operation for over ten years, sponsoring open source software applications like uMobile, the next-generation mobile solution; uPortal, the enterprise-grade portal solution; CAS, a flexible Central Authentication Service deployed for single sign-on; and Bedework, an enterprise calendar system for public, personal, and group use. For more information, visit the Jasig website at http://www.jasig.org.
About Unicon
Unicon, Inc. is a leading provider of IT consulting services for the education market. Unicon works closely with colleges, universities, and corporations to find the best solutions to meet their business challenges. Unicon specializes in using open source technologies to deliver flexible and cost-effective systems in the areas of enterprise portals, learning management systems, identity and access management, online video, calendaring, email, mobile, and collaboration. Unicon is a Sakai Commercial Affiliate; an InCommon Affiliate and Participant; an Industry Member of Internet2; a Jasig and VMware Partner; an authorized Solution Provider for CAS, uPortal, and VMware; a Solution Partner of Kaltura; and a Services Partner and reseller of Liferay and Zimbra. For more information, visit: http://www.unicon.net.
# # #
Unicon is a Registered Trademark of Unicon, Inc. All other product or service names are the property of their respective owners.