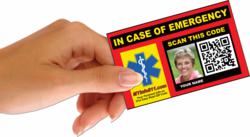 Palm Coast, FL (PRWEB) March 22, 2012
MyInfo911 identified wounded warriors, defined as military veterans injured in service to our country, as a group in particular need of its innovative medical ID cards and related products.
MyInfo911 discovered that according to the Wounded Warrior Project (WWP) and Department of Defense (DOD), some 32,000 have been injured in Operation Iraqui Freedom (OIF) and over 10,000 in Operation Enduring Freedom (OEF), its counterpart in Afghanistan. Over 20% of wounded warriors have serious and permanent injuries to the neurological system, in particular the brain and spinal cord.
Although the MyInfo911 line of state of the art emergency ID cards and related products provide benefits to all individuals, MyInfo911 decided early on that wounded warriors were a segment of the population that were in special need of its products.
Without MyInfo911, first responders, in most emergency situations, have no way to access the medical records of a wounded warrior or other victim, and no time to wait for them. Without knowledge of the victim's medical history, especially in the case of a wounded warrior, MyInfo911 learned that even the most well intentioned emergency personnel can often do more harm than good.
MyInfo911 ID cards, stickers, and key tags utilize the state of the art Quick Response (QR) Code that when scanned by an ordinary smart phone, enables first responders virtually instant access to the wounded warrior's specific medical history, including blood type, allergies, medications, and any past or existing medical conditions. Medical personnel can then provide treatment that is timely and correct because it is geared to the specific needs of the victim.
In addition, MyInfo911 products provide for instant identification and notification of the victim's next of kin, even assisting with the specific location of the victim.
About MyInfo911
Started in October 2010, MyInfo911 provides emergency identification cards that use QR codes to provide pertinent medical history information to first responders and other medical providers. The Palm Coast, Florida based company's cards have the person's picture, name and QR code on the front and the person's name, year of birth, emergency contact, blood type, allergies and specific medical conditions on the back. For more information visit https://www.myinfo911.com