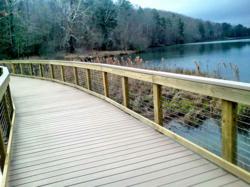 Clay, Alabama (PRWEB) March 08, 2012
Located in Clay, Alabama, a group of citizens who call themselves, "The Friends of Cosby Lake" spent numerous volunteer hours cleaning up Cosby Lake, and petitioned local, state and federal agencies to help preserve the 17 acre lake. After obtaining a grant from the Fresh Water Land Trust, the City of Clay purchased 55 acres of land around the lake to create a passive park for its citizens. In order to help balance the needs of development, while protecting the environment and providing public recreation, the City of Clay created a comprehensive greenway development plan that included a multi-use trail system that meanders around Cosby Lake.
The City of Clay hired Nature Bridges to construct a 12 x 284 lf of boardwalk with handrail, a 12 x 41 timber free span bridge and a 224 lf of concrete sidewalk, all of which are a part of the walking trail that circles the entire lake. The pedestrian bridge was built across a wetland area that attracts a wide variety of wildlife, including birds, fish, turtles and beavers. When walking around the lake, visitors can pause on the timber free span bridge to listen to the relaxing sounds of the water rushing over the lake's dam, while enjoying the beauty of nature.
When constructing the boardwalk portion of the project, Nature Bridges used their top down construction method. Top down construction is an environmentally friendly way of building wood bridges and timber bridges in ecologically sensitive areas, thereby preserving the environment. Through the use of lightweight hydraulic impact and material handling equipment in combination with hand driven auger machines, Nature Bridges' top down construction method means the only things that touch the ground are workmen. The only things left behind are footprints and your new structure.
Located in Tallahassee, Florida, Nature Bridges is a leading bridge company specializing in top-down construction of pedestrian bridges and boardwalks through environmentally sensitive areas. The company also offers a wide variety of development amenities including golf cart bridges, architecturally designed trellises, fencing, pavilions, decks, docks, timber retaining walls as well as DOT approved timber curbing, guardrails, and roadside walkways. For more information, contact Nature Bridges at 850-385-3234 or visit http://www.naturebridges.com