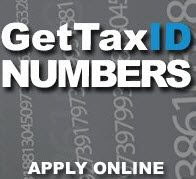 GetTaxIDNumbers focuses only on helping you file for a Tax ID Number using the correct business entity type with a personalized approach."
Longview, Texas (PRWEB) March 06, 2012
A brand new Internet start-up has launched and the firm, known as GetTaxIDNumbers, offers a service that helps individuals and small businesses obtain an Employer Identification Number (EIN) in as little as 60 minutes. Based in Longview, GetTaxIDNumbers will specialize in helping individuals and small businesses across all 50 US states get a Federal Tax ID Number online via their intuitive application assistance with IRS Form SS-4.
To avoid confusion, an EIN or Tax ID Number is commonly known by many names such as: Federal Tax ID Number, Business Tax ID Number, Tax Identification Number, IRS Tax ID Number, Taxpayer ID Number, Employers Tax ID Number, EIN Number, TIN and FEIN.
An EIN or a Tax ID Number is used by the Internal Revenue Service to identify tax paying business entities, and many people think of an EIN as a business social security number. Like a social security number, a Tax ID Number (TIN) is a unique nine-digit number assigned by the IRS to business entities (and in some cases individuals) operating in the United States for the purposes of identification.
One of the main benefits of using GetTaxIDNumbers to file an EIN Number is that their services are completely a la carte. A client doesn't have to opt for an expensive package that includes every imaginable accoutrement to the formation of a new company. GetTaxIDNumbers core business model is acting as a Third Party Designee to help clients obtain a Tax ID Number from the government in a timely manner.
GetTaxIDNumbers President, Justin Hill, quotes: "Not every business is the same. We have seen countless business owners make the comment, 'I wish I would have used your service the first time around because I chose the wrong type of business entity when filing my SS-4 Form on my own.' That is why GetTaxIDNumbers focuses only on helping you file for a Tax ID Number using the correct business entity type with a personalized approach."
In most cases, an EIN Number is needed under any of the following circumstances:

Business is new
Need to pay business taxes
Have one or more employees
Want to start a line of business credit
Plan to open a business bank account
Form an LLC, Corporation, or Partnership
If any of the circumstances above is true, GetTaxIDNumbers can handle the appropriate business filing required by the IRS on their clients behalf and help clients apply for a Tax ID Number online in under 5 minutes.