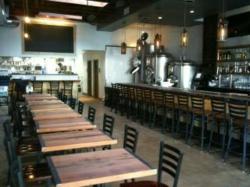 "It was important for us to use recycled materials in creating Southpaw BBQ. We are excited to have Haas hops warehouse materials in our restaurant." Elizabeth Wells, Southpaw BBQ.
Petaluma, California (PRWEB) March 07, 2012
Heritage Salvage repurposes reclaimed wood from hops icon John I Haas warehouse into reclaimed flooring, custom tables, bars and counter tops for local breweries, taverns, wineries and restaurants. The last pieces landed in three San Francisco restaurants: Galette 88, Southpaw BBQ, and Hops and Hominy.
Heritage Salvage reclaimed materials from the esteemed Hops Warehouse in 2010. From that time, the recycled materials have hop-scotched into Bay Area breweries and restaurants from Lagunitas Brewery and Wild Goat Restaurant in Petaluma, Dean Biersch's Hop Monk Tavern in Sonoma, Grable Vineyards in Knights Valley, Boca Pizzeria in Novato, and three San Francisco restaurants.
"It was an honor to reclaim materials from the warehouse of respected pioneering Hops grower, John I Haas. We care about the heritage of our materials and we are excited to share these materials with our brewery and restaurant customers. With completion of these three restaurants, we celebrate our 40th custom restaurant project and the end of these remarkable materials", shares Bug Deakin, owner Heritage Salvage.

Hops & Hominy is a Southeastern inspired restaurant featuring sustainable and organic goods, craft brewed beers, wine and spirits. They needed reclaimed wood tabletops, bar tops and drink rails. Heritage Salvage crafted them from Foppiano Vineyards red wine tank wood with Hops Warehouse inlays.
Galette 88 is serving savory buckwheat galettes and sweet crepes in San Francisco's financial district. Galette 88 came to Heritage Salvage for reclaimed flooring sourced from the Hops Warehouse, counter and bar tops and bench seating handcrafted from Camp Meeker Douglas Fir.
Southpaw BBQ is serving southern BBQ and regional food, home brewed beers and handcrafted cocktails in the Mission neighborhood. Heritage Salvage crafted their bar top from a Walnut slab with facing from Hops Warehouse purlins, reclaimed wood table tops from Fioppiano Vineyard's tank wood, chef counter from a Walnut slab, and an entry way from reclaimed cedar. A custom SouthPaw sign was crafted from rusty corrugated metal and hot rolled steel.
"It was important for us to use recycled materials in creating Southpaw. Not only did Heritage Salvage help us choose the best reclaimed wood for each aspect of our restaurant, they also helped us in our design process, and told the story and origins behind all wood. We were excited to include material from the Haas Hops Warehouse. Our home brewed beers are integral to our restaurant experience.", shares Elizabeth Wells, Southpaw BBQ.
Dean Biersch also shares, "We are delighted to use reclaimed wood from the Haas hops warehouse in the making our of new Tavern. John I Haas was an innovator and leader in the making of Hops and we like having that connection through the very materials that were part of his process integrated into ours."
About Heritage Salvage http://www.heritagesalvage.com
Heritage Salvage is a green building source with a three-acre yard of reclaimed building materials, flooring, and architectural salvage; a custom wood shop and a salvage boutique with custom made furniture. A comprehensive design and build team is available on premises to meet customer needs sustainably. Heritage Salvage has supplied old wood, materials and built the furnishings for over 40 restaurants, bars, stores, barns and homes. If you can draw it on a bar napkin or show us a picture, Heritage Salvage can build it!
###