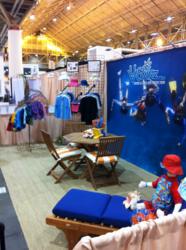 "Dermatologists are on the front line...and UV Skinz provides a fun, easy and hip solution for doctors to recommend to patients of all ages." Rhonda Sparks, Chief Executive Officer and President of UV Skinz
Sonora, CA (PRWEB) March 08, 2012
UV Skinz, one of the early providers of UPF 50+ protective sunwear, is proud to announce its exhibitor participation at the American Academy of Dermatology 70th Annual Meeting in San Diego, California from March 17-19, 2012. UV Skinz encourages attendees of the 2012 Annual Meeting to visit booth #441 to learn about UV Skinz' wide array of sun protective wear and accessories and to find out just how easy it is to live and play sun safe while having fun outdoors.
UV Skinz' attendance at the 70th Annual Meeting marks the second year that the company is focusing on partnering with dermatologists to get people protected from the damaging effects of the sun's UV radiation. "Dermatologists are on the front line of the fight against skin cancer and skin damage and UV Skinz provides a fun, easy and hip solution for doctors to recommend to patients of all ages," explains Rhonda Sparks, Chief Executive Officer and President of UV Skinz. Sparks adds, "We want to help raise awareness about the need for effective sun protection. While our products only require one application for all day UPF 50+ protection, blocking over 98% of the sun's harmful UVA and UVB rays, most sunscreens require multiple applications for the same period of protection and may not include protection from UVA rays."
The National Cancer Institute reports that while many common cancer rates are falling, melanoma rates within the U.S. continue to grow at an astonishing rate, faster than those of the seven most common cancers. "The dermatology community is key to stemming the tide of alarming skin cancer growth rates, particularly in children and young adults," says Sparks.
With 90 percent of pediatric melanoma cases found in 10-19 year old girls, Sparks implores parents to cover their children, discourage tanning bed use and protect them from becoming the one in five Americans who will develop skin cancer in their lifetimes. Sparks continues, "The pain that skin damage and skin cancer causes is so preventable in so many cases. By attending the 70th Annual Dermatology Meeting, we hope to meet new partners who will team up with us to teach lifelong sun safety."
About UV Skinz
UV Skinz is a leading provider of fun and affordable UV protective sunwear, swim shirts and accessories for the entire family. By providing the highest quality and hippest designs at competitive prices, UV Skinz aims to make sun protection effortless. For more information about UV Skinz, interviews, product samples and/or jpg photos, go to http://www.uvskinz.com , call 1 (877) 887-5469 or email kristine@uvskinz.com.