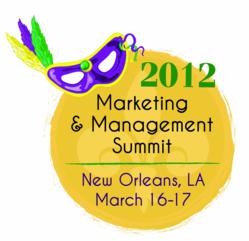 PILMMA prides itself on delivering more than just theory
Myrtle Beach, SC (PRWEB) March 07, 2012
PILMMA (Personal Injury Lawyers Marketing & Management Association), the nation's leading provider of marketing and management solutions for Personal Injury and Disability attorneys is hosting its Spring Legal Marketing and Management Conference, March 16th-17th, 2012 at the New Orleans Marriott at the Convention Center, located at 859 Convention Center Boulevard, New Orleans, LA, 70130. Attendees at this event can expect to learn the latest, most innovative strategies and tactics in legal marketing and management today.
One of the highlights of this event is keynote speaker, Chuck Martin, CEO of the Mobile Future Institute, Director of the Center for Media Research at Media Post Communications and best selling author of "The Third Screen: Marketing to Your Customers in a World Gone Mobile". In this book, he defines the implications, strategies and tactics for businesses to thrive in the mobile revolution. His book links the technological developments to the behavioral changes that go hand-in-hand and also reveals the unexpected aspects of the coming changes in the mobile marketplace, preparing marketers for what the very near future holds.
Other speakers set to take the stage during PILMMA's two day event include social media guru Cindy Speaker, and Tony Robbins's and Chet Holmes's top legal business coach from Business Breakthroughs International, Alex Nottingham, just to name a few. There will also be a Panel Discussion about Legal Marketing and the Internet including some of the sharpest minds in the industry today.
PILMMA is a marketing and management association dedicated to Personal Injury and Disability attorneys. As an organization, PILMMA strives to provide its members with the necessary tools, information and education to grow and manage a successful contingency based Injury and Disability law practice. PILMMA President and CEO, Ken Hardison spoke to the association's mission and the need for legal marketing education in this economy. "Personal Injury and Disability lawyers are facing fierce competition from their fellow attorneys. Each year, the number of lawyers continues to increase which makes marketing more important than ever if a firm wants to keep its share of the marketplace and remain profitable."
Those who have attended past PILMMA conferences have given rave reviews of the priceless information taken away from the presenters and vendors at the event. Based on the opinion of many of the satisfied attendees, the PILMMA conference is an educational experience for all attorneys and law firm marketing directors given the fact that "PILMMA prides itself on delivering more than just theory."
To register for this event, contact Valerie Cole at Valerie(at)PILMMA(dot)org or visit their website for more details and register online at http://www.pilmmasummit.com. For first time attendees, PILMMA is offering a special deal. The Gold Summit Package allows you to attend the Conference and enjoy a two month trial PILMMA Gold Membership for only $697. Registration fees for members vary based on membership level and non-members pay a premium of $1497 to attend. For more details and to register online, visit http://www.pilmmasummit.com; if you're interested in joining PILMMA or would like more information about the association and member benefits, simply visit http://www.pilmma.org, email info(at)pilmma(dot)org or call 1-800-497-1890.
# # #