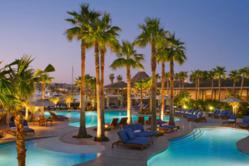 San Diego, CA (PRWEB) March 06, 2012
While the official start of spring won't take place for a little over a month, many people are already getting the itch to hit the outdoors. For families looking to take the plunge into springtime fun and have a few pennies to spare, Hyatt Regency Mission Bay Spa and Marina is offering a Mission Bay Adventure Package from now through June 30 along with a medley of recreational activities that will give adults and children a chance to get their feet wet.
The package was designed to make the trip's larger ticket items more affordable and accessible to families, without sacrificing the fun-factor:

20 percent off Red Marlin and SWIM Lounge, maximum four people (does not apply to in-room dining, Einstein Bros. or alcoholic beverages);
20 percent off attraction tickets, maximum four tickets for one attraction (tickets cannot be combined with multiple attractions; one-time purchase at hotel only for zoo, SeaWorld®, Legoland or Wild Animal Park; non-refundable);
Complimentary self-parking per night, maximum one car.
In addition to the Mission Bay Adventure Package, vacationers who book their trip between March 17 and April 8 can take advantage of the hotel's spring recreational activities, including:
DAILY ACTIVITIES
SeaWorld® Character Visits: Shake "fins" and take photos with SeaWorld® characters who pay a visit to the hotel property.
Self-Guided Scavenger Hunts: Available from 8 a.m. to 8 p.m., with prizes given to those who successfully complete the hunt.
Roast S'MORES: Pick up a few S'MORES kits from the SWIM Lounge and relax by one of the hotel's two outdoor fire pits.
WEEKEND ACTIVITIES
Dock Walks: Guided tours around the Hyatt Marina to teach children about the local aquatic sea life in Mission Bay.
Poolside Activities: Waterslide relay races, watermelon eating contests and water balloon tosses are held each weekend afternoon on the pool deck, perfect for children of all ages.
Minnows Movie Night: Each Saturday at 7:30 p.m., Hyatt will show a different movie in the pool area that is complimentary to all hotel guests. Food and beverages available at the SWIM Lounge.
EASTER CELEBRATION
Families who will be staying at Hyatt Regency Mission Bay Spa and Marina during the Easter holiday will have a chance to partake in the day's festivities, including:
Taking pictures with the Easter Bunny;
Famous Easter Brunch offered at Red Marlin;
Classic egg hunt around the Cabana lawn;
Underwater egg hunt in the pools; and
Egg decorating and various other arts and crafts.
A weekly activity guide and calendar of events with the dates, times and locations of each event will be distributed to guests upon hotel check-in and available at the concierge desk.
About the Hyatt Regency Mission Bay Spa and Marina
Neighboring SeaWorld®, the Hyatt Regency Mission Bay Spa and Marina is perfectly situated to explore Balboa Park, the Gaslamp Quarter and San Diego's beautiful beaches. The recently reinvented coastal hotel on Mission Bay features 430 guestrooms, three pools with waterslides, an award-winning signature restaurant Red Marlin, a poolside bar and lounge and eco-friendly Blue Marble Spa. The Hyatt Regency Mission Bay Spa and Marina is located at 1441 Quivira Road. Visit http://www.missionbay.hyatt.com or call 619-224-1234 for reservations or more information. To keep up with the latest happenings, become a Facebook fan of Hyatt Regency Mission Bay Spa & Marina or follow us on Twitter at @HyattMissionBay.
###