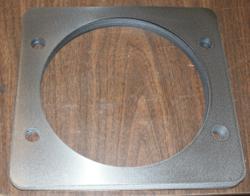 You will save time and money with RAPid Shims. Our Automated RAPid Order Processing System™ we can get your shims quoted, cut, and shipped to you faster than most of the competition can get you a quote
Waukesha, WI (PRWEB) March 08, 2012
Rentapen received an order for custom cut metal shims through their national distributor E.L. Simeth. In the month of February, Rentapen received orders from 5 new customers through E.L. Simeth.
Metal shims are commonly used to finely adjust the location of how the fixture holds the product so that it is welded together within the dimensions set for the product to work well.
A pack of thin metal shim is placed between two components in the fixture. The first component is fixed in place and the second component is attached to the first component with the pack of shims in between. Removing one shim or adding one shim slightly adjusts the location of the second component. This is important to manufacturers who want to have their product's parts assemble easily after being welded.
Rentapen offers many different thicknesses for shims that can be used for work holding fixtures and weld fixtures.
Shims come as thin as 1/8mm, which is equivalent to .005"
Rentapen offers steel shims, stainless steel shims, metal shims, NAAMS shim shapes, Bridge shims, Adjustment shims, custom sizes and shapes of shims, Reid Tool Supply shim shapes, and Douglas shims.
Rentapen's shims and shim packs are cut with their 150 watt Kern Laser that cuts up to 1/8 inch steel and can run at night without an operator present. This is an important factor that reduces costs and allows Rentapen to win orders large and small for shims.
"You will save time and money with RAPid Shims. Our Automated RAPid Order Processing System™ we can get your shims quoted, cut, and shipped to you faster than most of the competition can get you a quote," said Susan Straley, President and Queen of Lean Machine Design at Rentapen Inc.