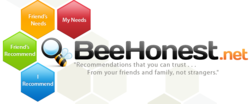 People already rely on their friends and family in real life for recommendations. BeeHonest.net takes this word of mouth approach to the internet.
Philadelphia, PA (PRWEB) March 14, 2012
As Yelp makes a splash with their IPO, BeeHonest.net expands into the Philadelphia region. The users at BeeHonest.net believe there is a better way than anonymous reviews when making a decision about a product or service that impacts their lives. Relying on anonymous reviews is similar to asking a stranger where to eat. BeeHonest.net uses recommendations from people users know and trust instead of reviews from anonymous people to provide insight on what to buy, where to go, and who to hire. "I go to BeeHonest.net for almost everything," said Maura Webber, a 28-year-old consultant in Philadelphia, who has been using BeeHonest.net for the last 6 months. "When I need something I enter my need on BeeHonest.net, and I am able to tap into great recommendations from my family and friends."
Trust is hard to find on the Internet. Having a place where true friends and family can give recommendations really differentiates BeeHonest.net from Yelp and other Internet review sites. Users of BeeHonest.net find value in being easily connected to the recommendations of people they already trust. Rich Wesselt, owner of the Wesselt Capital Group outside of Philadelphia, commented: "My business is based on trust whether I am referring my clients to a realtor, an accountant, a lawyer, or for small business activities. I utilize BeeHonest.net to make these recommendations to help my clients. In return, if they like my service they promote the personal touch they receive and my ability to grow their wealth by recommending me on BeeHonest.net. It's a win, win situation."
Does Yelp really work? It depends on the individual. If they are comfortable accepting an anonymous review from someone, such as a mechanic, than yes. But when their brakes don't work after they are "fixed", don't be surprised when to later find out the anonymous review was from Steve's brother at Steve's auto. This approach is flawed because people can never really trust reviews whether they are free from people they don't know, or they pay for them from experts in other review sites like Angie's List. In either case they don't know if they can trust the people.
Co-founders Jennifer Dee and Annette Eddowes say, "People already rely on their friends and family in real life. BeeHonest.net takes this word of mouth approach to the internet. BeeHonest.net is the place to house and organize that information. One week, three months, or even year later information is accessible to you and your network of friends and family to benefit. A great restaurant, a reliable contractor, a trusted babysitter are just a few of the amazing recommendation people benefit from."