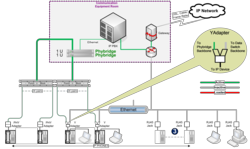 A complete five 9's reliable LAN topology at a fraction of the cost and without risk or disruption.
Mississauga, Ontario (PRWEB) March 08, 2012
Phybridge Inc. today announced that it has been issued US Patent No: 8,125,998 for Backup System and Method for Network Data Communications. This innovation expands the capabilities of the award winning Phybridge switches allowing customers to create a robust and redundant local area network (LAN).
The survivability and robustness of a business's LAN is critical as communication applications and devices become more integrated. Disruption and delay caused by a network outage results in the loss of crucial communication such as IP telephony as well as significant cost to the business. Current LAN redundancy methods are expensive, complex and often impossible to implement. Phybridge's new patent allows for a clean and inexpensive solution to network redundancy. In addition to a network failover backbone, it can also function as a mid-span power sourcing equipment (PSE).
The Phybridge invention (currently named the Y-adapter) complements and extends the business value of Phybridge switches. The Phybridge switches are the only switches globally to deliver Ethernet and Power over a single pair of telephony grade wire with four times the reach of data switches. Thousands of customers have transformed their proven reliable voice infrastructure into an IP path with power optimizing their LAN and enabling a quick, easy, low cost migration to IP telephony. The introduction of the Y-adapter will allow customers the ability to create complete network and PoE redundancy.
The Y-adapter has two RJ45 connections, one to the IEEE compliant PoE device like an IP phone and the other to connect to the data LAN backbone. There is a single RJ11 connector that connects to the Phybridge switch enabled data backbone leveraging the existing voice wiring infrastructure. The Y-adapter has the intelligence to monitor the health of traffic over the network. In the event of network outages or poor quality, the Y-adapter will seamlessly route the traffic to the Phybridge switch. In addition, businesses can use the Phybridge switch backbone to provide PoE to their devices, thereby further reducing the cost of the traditional data switches.
"Our mission is to introduce technology innovations that allow customers to reduce their total cost of ownership while enhancing their return on investment" says Oliver Emmanuel, Inventor and Founder of Phybridge. "The Y-adapter combined with the Phybridge switch innovation is an example of how businesses can optimize their LAN for convergence and build a complete five 9's reliable LAN topology at a fraction of the cost and without risk or disruption." With thousands of satisfied Phybridge switch customers the Y-adapter is a complementary technology that takes a business's LAN reliability to a whole new level.
About Phybridge
Phybridge's mission is to bring practical innovations to market that provides customers and partners an easier way to deploy and manage their VoIP installs resulting in reduced total cost of ownership and enhanced return on investment. Phybridge offers the only network switches in the world to deliver Ethernet and Power over a single pair of wire with reach of over 1,200 feet. Customers are migrating to IP telephony quickly and easily leveraging the existing voice infrastructure to create an optimized converged network. Old Phone Today, IP Phone Tomorrow, Guaranteed QoS.