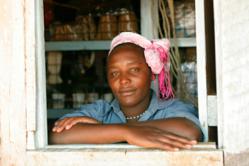 Investing in women is smart economics
New York, NY (PRWEB) March 08, 2012
Calvert Foundation today announced the launch of the Women INvesting in Women INitiative (WIN-WIN)™, which will invest at least $20 million in high-impact organizations and projects worldwide that create opportunities for women lacking access to traditional credit and funding sources. A $1 million grant from the Citi Foundation will allow Calvert Foundation to efficiently deploy these funds to microfinance institutions (MFIs) and community development financial institutions (CDFIs) that are investing in women-focused small businesses and critical services impacting low-income women and their families. The funding will make it possible for borrowers to build small businesses, improve their living conditions and invest in education and childcare in order to build more secure and prosperous futures. Today's announcement coincides with International Women's Day, a global movement to empower women and expand equal opportunity.
WIN-WIN will be led by Calvert Foundation, an internationally recognized nonprofit that has nearly $200 million invested in 250 community organizations in all 50 states and more than 100 countries. Calvert Foundation is capitalizing the initiative with donations as well as investments raised from the private sector.
"Investment in the ingenuity and ambition of women is critical if we hope to have any success as a more equitable global society," said Citi CEO Vikram Pandit. "Expanding financial inclusion and fostering innovation are both central to Citi's mission, and the WIN-WIN program embodies both of these core commitments. The Citi Foundation's support of this cutting-edge Calvert Foundation initiative will provide critical financing with the power to advance economic opportunity for underserved women around the world."
The World Bank calls investing in women "smart economics" because research shows economic growth for women has an important multiplier effect. Women reinvest - they spend more earned income on food, healthcare, home improvement and schooling for themselves and their children than their male counterparts. Further, projections show that reducing the financial barriers to entry for female labor force participation could drastically increase national productivity in developed countries.
"Because women are more likely to share their economic gains with their families and communities at large, we are excited to create a portfolio dedicated to helping women succeed," said Lisa Hall, President and CEO of Calvert Foundation. "And we are so glad to have the Citi Foundation share this vision of women's economic empowerment and opportunity with us."
"We are excited to support WIN-WIN because it provides the platform for women to become agents of their own economic power and opportunity," said Pamela Flaherty, President and CEO of the Citi Foundation. "WIN-WIN is an innovative model for financial inclusion that sources and directs capital in new ways to improve the lives of women, their families and their communities."
WIN-WIN will support women like Jane Skeeter, founder of UltraGlas Inc. Jane has run her own business for nearly 40 years in an industry typically dominated by men. Like many entrepreneurs, Jane's business has faced numerous challenges, yet her history and growth potential convinced Calvert Foundation borrower and Los Angeles-based CDFI Valley Economic Development Center (VEDC) to provide her with a loan to purchase equipment that has increased production while using less power. More importantly, Jane's success means she is poised to create 65 more jobs before 2014.
MFIs and CDFIs like VEDC fill a critical financing gap for entrepreneurs that cannot access traditional sources due to short credit history or an impractically small loan request, sometimes as low as $1,000. WIN-WIN will make it possible for these organizations to support more women worldwide. In addition to lending in the U.S., WIN-WIN will lend approximately 25% of the fund internationally.
WIN-WIN also makes use of a strategy to not only leverage private sector capital to improve the lives of women, but also seeks to mobilize women investors as lead providers of capital to the fund. Women comprise nearly half of the nation's top wealth holders and control $20 trillion in spending globally. WIN-WIN specifically seeks to attract women's investment capital and its huge potential to transform the lives of women around the world.
WIN-WIN is the latest instance of Citi supporting Calvert Foundation's efforts to expand opportunity for underserved populations. The organizations previously collaborated in 2010 on the launch of the Communities at Work Fund, which has since invested more than $100 million to create jobs and improve communities in the U.S.
Broadcast Media: For WINWIN Bites and Broll go to: http://vimeo.com/38066557
About Calvert Foundation
Calvert Foundation is a nonprofit organization that provides the opportunity for investors to achieve financial returns while empowering people living in low-income communities in the United States and around the world. Calvert Foundation believes in creating a win-win, improving both the lives of those who receive investment dollars and the lives of our investors. A pioneer in the social impact investment field, Calvert Foundation investors have helped to create over 528,000 jobs for low-income individuals, built or rehabilitated over 20,000 affordable homes, and financed close to 27,000 nonprofit facilities and social enterprises through their investment in Calvert Foundation's Community Investment Note. Learn more at http://www.calvertfoundation.org/winwin. You can also follow this effort on http://www.facebook.com/womenwinwin on Twitter @WomenWinWin or http://www.youtube.com/user/calvertfdn.
EDITOR'S NOTE: Calvert Foundation is a separate entity from Calvert Investments Inc. and its products should not be confused with any Calvert Investments-sponsored investment product. In order to avoid confusion and be consistent when referring to Calvert Foundation in print news stories, always use "Calvert Foundation" as opposed to "Calvert" in headlines and subheads.
Media Contacts:
Carrie Hutchison, Calvert Foundation, 301-280-6003 or carrie.hutchison(at)calvertfoundation(dot)org
David Roskin, Citi, 212-559-4767 or david.roskin(at)citi(dot)com