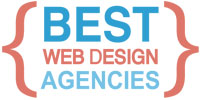 (PRWEB) March 07, 2012
The independent authority on web design and development, bestwebdesignagencies.com, has released their list of the best web development companies for the month of March 2012. Magic Logix has been given the award as sixth best http:// web development firm due to their solid processes for developing professional quality and extensive websites. They were identified during the evaluation and ranking process which compares the top web development agencies and ranks them in the list based on their performance.
Magic Logix provides a custom web development service which focuses on a professional website across various platforms. Their process for development involves meticulous testing, strategy consultation, and dynamic solutions. They provide web development services for Drupal, Joomla, and Wordpress among other CRM and open source solutions.
bestwebdesignagencies.com evaluates and ranks http:// web development companies through the use of a set of evaluation criteria, customer references, and various industry resources for web development companies. Five areas of evaluation are used to compare each of the best based on their strengths, weaknesses, and competitive advantages. The five areas include development standards, browser compatibility, code security, services, and customer support.
For a more thorough evaluation, customer references are also used in order to receive unique feedback on each http:// web development company in the evaluation process. At least three customer references are obtained for each company in order to ask the clients general and specific questions about the service and obtain information about how the web development services have impacted their business. Customers of Magic Logix have indicated their pleasure at having custom websites developed for them with their own functionality and features without the bugs and issues which come from internal web development.
The best web development agencies are evaluated and ranked by the independent authority on web design and development to assist businesses in finding the right fit for their custom website needs. Magic Logix offers a professional development service which produces results and recognition for their customers.
ABOUT bestwebdesignagencies.com
bestwebdesignagencies.com is an independent research firm with a dedication to providing a list of the best web design companies and web development firms in the industry. Through meticulous research and developed methods for evaluating and ranking companies, bestwebdesignagencies.com has provided customers of web design and development services with a great resource to find a top performing web design company. Evaluations are carried out by a specialized team of researchers who examine thousands of applicants each month. bestwebdesignagencies.com provides their rankings free of charge to companies and individuals searching for a quality web design firm or looking for other design and development services with updates being provided on the first of each month. The website also provides information and resources for those looking to learn more about web design and development services.
To view the list of the Best Web Development Companies visit:
http://www.bestwebdesignagencies.com/rankings-of-best-web-development-companies
To learn more about Magic Logix visit:
http://magic-logix.bestwebdesignagencies.com/