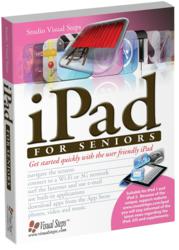 Covers the iPad1, 2 and the
newly-released iPad 3!
New York, New York (PRWEB) March 08, 2012
Visual Steps' iPad for Seniors shows how to use this extremely portable multimedia device.
The iPad is quickly replacing the desktop as an all-purpose computer. Ten percent of all business professionals say the iPad is their primary device and 97% are using the iPad for reading. 70% of iPad owners are over the age of 35 and 50% of tablet owners are in households with more than $100,000 in annual income. These statistics were recently reported in the NPD Group's study "Tablet Adoption and Insights Report."
Thousands are freeing themselves from heavy laptops and using their iPad to:

Surf the internet
Write, send and receive emails
Record notes and store PDF documents
Maintain a digital calendar
Connect to a Wi-Fi or 3G network
Listen to music and download more songs
Take and store photos
Make video calls
The hundreds of thousands of apps in the Apple store further extend the iPad's versatility. Most apps are free or inexpensive and can allow the user to:

Play popular games like Angry Birds, Words With Friends, Solitaire
Access favorite magazines and newspapers
Shop online
Check news and weather
Create business presentations and use Powerpoint
Suitable for iPad1, 2 and the new iPad (third generation), Visual Steps iPad for Seniors is the first comprehensive guide to learning how to get the most out of the iPad's tremendous functionality and is especially created for Boomers and anyone over 50 with clear instructions in large type and step-by-step instructions.
With Visual Steps iPad for Seniors the user can learn how to take complete advantage of this technology and get the most from their investment.
iPad for Seniors
Author: Studio Visual Steps
Number of pages: 296
Book type: Paperback, full color
ISBN: 978 90 5905 108 9
Price: US $22.95 Canada $25.95
Support website: http://www.visualsteps.com/ipad
For over 10 years, Visual Steps Publishing, a Dutch based company, has specialized in the publishing of practical and accessible computer handbooks, software user guides and other instructional materials that are tailored to boomers and senior citizens. We have sold more than one million copies of our books worldwide. Besides publishing books sold in retail, we also publish tailor-made instructional materials for seminars, training programs for corporate clients and educational institutions. The Studio Visual Steps team of authors is comprised of a variety of professionals, all thoroughly experienced in their own subject field.
The Visual Steps books are available at bookstores everywhere and distributed to the trade by IPG. More information and hi-resolution images of covers can be found on http://www.visualsteps.com/press
###