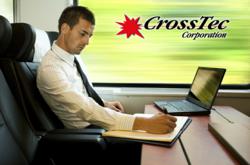 Schools need to know where their IT assets are at all times and ensure they are all running continuously without any issues
Grand Rapids, MI (PRWEB) March 08, 2012
CrossTec Corporation is displaying their award winning Classroom Management Software, SchoolVue, at the MACUL 2012 Conference in Grand Rapids, MI today. Their display shows SchoolVue managing multiple types of devices, including notebooks and virtual desktops, while mimicking a number of classroom scenarios. CrossTec Corporation also has their Network Management Solutions on display, including their CrossTec Remote Control Desktop Management Software and CrossTec EMS IT Asset Management (ITAM) Software.
CrossTec SchoolVue is a classroom management solution that enables teachers to deliver top notch lessons to students in their 21st century classrooms. More than ever before, teachers, lab instructors and corporate trainers can take control of classroom technology, giving them the ability to monitor student activity on the PC, control application and internet usage, instant messenger usage, device usage and more. Teachers can use features such as the "Show" mode for classroom demonstration or leverage the Testing Console to deliver custom, interactive, computer based tests that are graded automatically by the SchoolVue software.
In addition to their SchoolVue Classroom Management Software, CrossTec Corporaiton will be displaying their Network Management Solutions. CrossTec offers a range of Remote Control and IT Asset Management solutions that can streamline IT departments of schools ranging from small private schools to large districts.
"Many schools have been implementing a range of our Network Management Software to help them streamline their IT teams," said Jeff Richards, VP of Sales at CrossTec Corporation. "Schools need to know where their IT assets are at all times and ensure that they are all running continuously without any issues."
The MACUL 2012 exhibit hall is open March 8th and 9th this year. For more information about the conference, please visit: http://www.macul.org/conferences/2012maculconference/.
CrossTec Corporation offers free 30-day evaluations and monthly webinars. For more information about CrossTec SchoolVue, CrossTec Remote Control, or CrossTec EMS, please visit http://www.CrossTecSoftware.com.
About CrossTec Corporation:
CrossTec Corporation is headquartered in Boca Raton, FL with offices in Grand Rapids, MI. They have been a leading provider of software solutions for schools since 1996, including the award winning CrossTec SchoolVue brand of classroom management software. CrossTec's mission is to empower IT departments, teachers, and tech coordinators by offering a combination of education-tested products, substantial feature sets, superior value, and unparalleled customer service. For more information on CrossTec Corporation or the CrossTec family of products or to speak to a product representative, please call 800-675-0729 or visit http://www.crosstecsoftware.com.