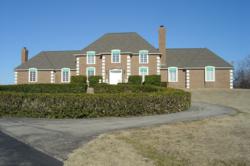 Because these properties must sell, buyers will be able to walk away owning beautiful properties, at their price
Kansas City, Mo. (PRWEB) March 08, 2012
Buyers have the opportunity of a lifetime to purchase commercial and residential property in Skiatook, Okla., at the price of their choosing. United Country – Birdsong Auction & Real Estate Group, LLC, will sell a variety of properties to the highest bidder during an absolute, multi-property auction event on Friday, April 6 at 1 p.m. and Saturday, April 7 at 10 a.m. The auction inventory is part of the estate of Lanny Potts, original inventor of the Stairmaster Exercise Machine.
"We believe that the multi-property event is one of the best ways to bring properties to the public," said Travis Birdsong, owner, broker and auctioneer of United Country – Birdsong Auction & Real Estate Group. "This format allows qualified buyers the opportunity to see a variety of available homes and income properties and determine their current fair market values through the bidding process. Because these properties must sell, buyers will be able to walk away owning beautiful properties, at their price."
The April 6 event will feature commercial and development properties including a former Gas & Go Truck Stop and two parcels measuring roughly 2.7 and 22 acres in size. All these properties are located at the U.S. Highway 75 and State Road 20 interchange providing a high traffic count.
The April 7 auction will showcase the brick estate home with 16 rooms, a pool and pool house, a gated entrance and over 68 fenced acres offered in three tracts. The event will also feature the personal property of the estate including furniture, antiques, a Wurlitzer Jukebox, deli equipment, tractors, mowers and other vehicles including a 2001 Jaguar S-Type 3.0 Sport Sedan – all to be sold absolute.
Preview of the real estate will be available March 10, 11, 24 and 25, April 1 through 6 from 10 a.m. to 5 p.m. Potential buyers will be able to inspect the personal property prior to the April 7 event from 8 to 10 a.m.
Property details, photos and terms and conditions can be found at http://www.birdsongauction.com. United Country – Birdsong Auction & Real Estate Group can be contacted at 800-223-4157.
About United Country
United Country Real Estate is the largest fully integrated network of conventional and auction real estate professionals in the United States. The company has been an innovator in real estate marketing since 1925. United Country supports nearly 550 offices across the U.S., Costa Rica, Panama and resort areas of Mexico, with a unique, comprehensive marketing program that includes one of the largest portfolios of property marketing websites (more than 3,000 separate sites and traffic of approximately 3 million visitors per month), multiple United Country real estate catalogs with national distribution , an extensive buyer database and national advertising of local properties that reaches more than 90 million homes per week. United Country has recently been recognized by AllBusiness.com, The Land Report, Entrepreneur and The Wall Street Journal as one of the top U.S. real estate companies.