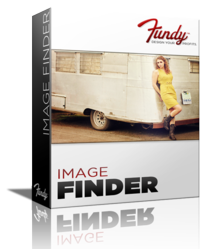 It truly gives me more time to shoot, design and social network. That's what I'm talking about!"
--Frank Salas,
WPPI Master Class Speaker
Beaverton, OR (PRWEB) March 08, 2012
With the release of Image Finder from Fundy Software, it has never been easier for wedding, commercial and portrait photographers to find clients' files and get an order out the door.
Got a print portrait order? Client sent a list of files? Tired of searching through folders and folders of photographs? This free, desktop app will cut down on that unnecessary time for busy photographers.
The company launched Image Finder as a free headache relief for its clients. Andrew Funderburg, owner and CEO, said, "We wanted to give something back to our fans and provide a useful service. We saw a need for Image Finder in the marketplace and thought it would be a nice solution for clients, plus why not make it 100% free as a bonus?"
Among its features, Image Finder helps photographers:
Track down images quickly
Find clients' images pronto
Locate print order files
Save out copies super fast
Easily select by folder and type
And it's 100% free.
"This is exactly what I was looking for! The Image Finder saves me tons of time tracking down my client files," said Frank Salas, master photographer and WPPI Master Class speaker. "All I do is paste my clients' print orders or album choices in the software and it locates them in seconds. It truly gives me more time to shoot, design and social network. That's what I'm talking about!"
Photographers who have a list of selected photos from a recent wedding, a list of image selects from a studio order or a group from a shopping cart will definitely benefit from a faster work flow with Image Finder, said Funderburg. "Long gone are the days of hunting through folders of hundreds of images for the 30 or so your client needs."
To use the software, just paste in file names you receive, browse to the main folder that images are in, click find files and copy them out to a new folder. A client's order is now organized and can be fulfilled in no time by the photographer. See Image Finder in action.
Image Finder is a stand-alone download that works on a PC or MAC and can be downloaded here.
Founded in 2008, Fundy Software creates software solutions and provides education to wedding and portrait photographers. The company offers a variety of products from HotOne award winning Album Builder, an album design solution, to Album Proofer, an easy-to-use, online proofing product.