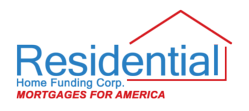 Blue Bell, PA (PRWEB) March 09, 2012
Residential Home Funding Corp., a New Jersey, New York and Pennsylvania based mortgage lender announced today the expansion of its popular Mortgages for Champions program in Pennsylvania.
RHFC's Blue Bell, PA office is offering a special promotion to the community to enhance homeownership, and allow more consumers to refinance their current mortgage. Under the Pennsylvania Mortgages for Champions promotion, Residential Home Funding Corporation has agreed to waive all lender closing costs for Pennsylvania Police Officers, Firefighters, EMTs, Educators, Medical Professionals and Government Employees.
A "Mortgages for Champions" loan will have no application fees, no processing fees, no underwriting fees, no commitment fees, no origination fees, and no credit report fees. This promotion applies to all purchase and refinance applications in the Keystone State. FHA, VA, USDA and Conventional loan types all qualify. The program will streamline the underwriting process, reduce the paperwork involved, and eliminate lender costs associated with residential home mortgage financing programs.
Michael Ferraro, RHFC Blue Bell Branch Manager stated: "This promotion will allow so many homeowners to save thousands of dollars in fees and easily allow them to refinance to better terms. It will also help increase first time homeownership since borrowers closing costs will be greatly reduced and we can apply this promotion to all loan programs we offer. We just want to say thank you to the hero's that serve our community."
For more information on the "Mortgage for Champions" promotion, call toll free 1-888-689-4192 or email mortgagesforteachers(at)rhfunding(dot)com.
Residential Home Funding Corp. is a full service mortgage banker licensed in CA, CT, CO, DC, DE, FL, GA, IL, MD, NC, NJ, NM, NY, PA, SC, and VA. RHF offers a wide array of mortgage products, competitive rates and employs some of the most talented and dedicated employees in the industry. Residential Home Funding Corp. is a direct Fannie Mae lender and also originates FHA and VA loans.
Residential Home Funding Corp. is an Equal Housing Lender. This is not a commitment to lend; all loans are subject to application and underwriting approval and program rates and terms subject to change without notice. For more information about RHFC please visit http://www.rhfunding.com.