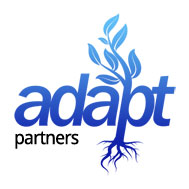 Raleigh, NC (PRWEB) March 07, 2012
Managing partners Brian Chappell and Marty Martin today announce the launch of Adapt Partners, LLC. Adapt Partners will be headquartered in the Research Triangle of North Carolina.
Adapt Partners is a search marketing consultancy offering a range of online marketing services to businesses including search engine optimization, online reputation management, conversion rate optimization, and link building. In addition to general search marketing, Adapt Partners will offer a specialty focus on websites using the WordPress content management system and Magento e-commerce platform.
Both partners have previous experience consulting with a wide array of businesses including the Fortune 100 & 500, e-commerce retailers, lead generation, government, higher education, publishing, real estate and others. Collectively they have successfully achieved significant multimillion dollar increases in revenue on behalf of clients through their search optimization execution.
As businesses have become more and more reliant on the Internet as a primary marketing and sales medium over the years, competition for the attention and clicks of the public has continued to increase exponentially. Successful companies turn to search optimization professionals to increase revenue and exposure of their brand and message.
With both technical and marketing web experience, combined with over seventeen years of work in the search optimization industry, Adapt Partners is uniquely situated to support businesses with specialized, personal attention.
Adapt Partners is currently accepting new clients.