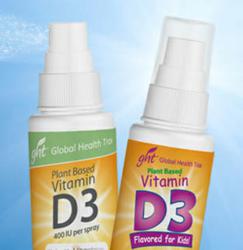 Vegans want the best source of Vitamin D – that does not conflict with their ethics. That's why our customers are ecstatic about finally having access to a truly genuine plant-based source of Vitamin D3.
Vista, CA (PRWEB) March 07, 2012
Global Health Trax, a leading name in nutritional supplements, has announced the launch of a new line of Vitamin D3 products made with Vitashine, a proprietary raw material that is the only source of Vitamin D3 known to be produced using absolutely no animal products. A recent agreement between Global Health Trax, Inc., it's wholly owned subsidiary Health Specialties Manufacturing, Inc. and ESB Developments Ltd., the European source of Vitashine, makes Global Health Trax the only company to offer 100% vegan Vitamin D3 products in North America and select international markets.
Sales of Vitamin D supplements have skyrocketed since 2009, when a study published in the Archives of Internal Medicine showed that three-quarters of Americans suffer from Vitamin D deficiency, which can decrease bone density and weaken the immune system. Like other consumer groups, vegans have been buying more Vitamin D supplements in the last three years as a result of these findings and the corroborative research that followed, but most object to how Vitamin D3 is typically made: by extracting lanolin from sheep's wool, which may negatively impact the natural state of the animals.
Vegan consumers therefore usually purchase Vitamin D2 supplements, which are made using a pro-vitamin called ergosterol that is derived from fungi. However, the results of several scientific studies conducted over the last decade suggest that Vitamin D3 is 70% to 87% more potent than Vitamin D2 and easier for the human body to absorb, making it far more effective at raising people's Vitamin D levels.
Other companies have claimed to produce vegan Vitamin D3 supplements before, but close inspection by researchers at the UK-based Vegan Society revealed that these products were merely forms of Vitamin D2. The testing of these and other compounds resulted in identifying plants that had been grown utilizing some form of lanolin and therefore proved to be sourced from sheep's wool. Vitashine, however, is made from a type of lichen, and is the only 100% plant-based Vitamin D3 on the market.
Global Health Trax's vegan-compliant Vitamin D3 product line is available for immediate shipment in both spray and capsule form. The 400 IU (International Unit) spray for adults and mild, naturally flavored 200 IU spray for children can be sprayed on food or directly into the mouth. Capsules are available in a 60-count bottle of 5,000 IU vegan-compliant softgels, and 1,000 IU softgels will be available within 90 days. Each of these products provides a full two-month supply of natural Vitamin D3. Global Health Trax is also making these products available to customers as a private label offering through Health Specialties Manufacturing, Inc.
"This introduction of a revolutionary sourced ingredient and blended product selection is another example of how nutritional experts have approached Global Health Trax to work with them, due to our growing reputation as an industry expert in translating scientific discovery into business enterprise," said Jim Rex, President and CEO of Global Health Trax. "As exceptionally health-conscious consumers, vegans want the best source of Vitamin D – that does not conflict with their ethics. That's why our customers in North America and other rollout countries are ecstatic about finally having access to a truly genuine plant-based source of Vitamin D3."
Global Health Trax will be distributing samples of the new Vitamin D3 product at Natural Products Expo West 2012 in Anaheim, California on March 9 – 11, booth #188
About Global Health Trax
Global Health Trax, Inc. is located in Vista, California and has been a supplier to the health supplements industry since 1996. It is a leader in the Nutraceutical industry, with recognized expertise in the critical improvement and maintenance of the digestive system, which serves as the gateway to an overall healthy body. The company markets a widely recognized line of products featuring probiotics, enzymes, antioxidants and other pivotal Nutraceuticals focused on the health of the digestive system, as well as the overall well-being of the individual.
For more information about Global Health Trax's new Vitamin D3 products, visit http://www.vitashine.com or the company's website at http://www.ghthealth.com. Global Health Trax strongly recommends that consumers consult with their healthcare provider to determine which supplements are best suited to their individual health needs.
Media Contact:
Mike Foitzik
(760) 542-3000
mfoitzik(at)globalhealthtrax(dot)com
###