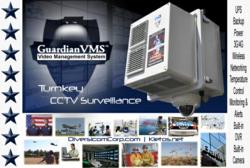 The GuardianVMS Portable Surveillance Enclosure with Built-in 4G Wireless, a Security Camera, a DVR, Battery Backup Power, and Temperature Control is hands down the Most Advanced Turnkey Surveillance Solution, Enclosure All-in-One on Earth.
Tampa, FL (PRWEB) March 08, 2012
The new GuardianVMS™ Industrial Enclosure and Video Management System (VMS) by Kletos Communications, Inc., http://www.kletos.net, seems to have it all and that's a big understatement. This new, easily portable, All-in-One 3G/4G Wireless Industrial Surveillance Enclosure has a Universal Power Supply (UPS), Network Switch, Internet Temperature Controller, Sensors measuring Ambient and Internal Temperatures, and includes Built-in Thermal Cooling/Heating, automatically adjusting to the environment designed to keep equipment running for years. The GuardianVMS™ Industrial Enclosure can even be set to send an email or page when the door is opened.
Developed by a team of engineers in Tampa, FL with an extensive 25 year background in City Wireless Broadband Networking, Computer Information Systems, Microcomputers, and Development, and Large Scale Network Management, the GuardianVMS™ Industrial Enclosure is an incredible achievement in versatility and design and is unmatched in quality and superior capabilities.
The Kletos team developed the GuardianVMS™ so that as soon as the Enclosure is plugged in it begins recording video. It has a complete Video Management System (VMS), already running inside and Video can be viewed Real-time through a Web Browser, or recorded Video can be downloaded directly to a computer either using the Built-in 4G Wireless connection or a Local Network. The system was especially designed with high uptime requirements in mind. With built-in Battery Backup Power and Surge Protection the system remains available even under extreme climate conditions. The new turnkey system has all the features needed to assist in Surveillance investigation and help deter crime 24x7.
GuardianVMS™ is a Surveillance Tool Police Departments and Security Professionals will be glad to have in their arsenal.
About Kletos Communications Inc
Kletos is owned and operated by Army Veterans with an extensive background in Technology Infrastructure Management, Wireless Network Deployment, and IP Based CCTV Integration. The engineers at Kletos aim to simplify extremely complex technologies and streamline advanced integration and project management for Security Integrators, Police Departments, Airports, and Homeland Security.
For more information contact Kletos Communications, Inc., a subsidiary of Diversicom Corporation, at (813) 677-3312 or visit http://www.kletos.net. GuardianVMS™ is built on the Kletos Communications, Inc. SAM-1816™ U.S. Patent Pending enclosure technology. SAM-1816™ Security - Automation - Management
http://www.kletos.net | http://www.diversicomcorp.com | 813.677.3312
Contact Information:
Kletos Communications Inc.
1410 North 21st Street
Tampa, FL 33605
813-677-3312
http://www.kletos.net
©Copyright 2011-2012 Diversicom Corporation. All rights reserved.