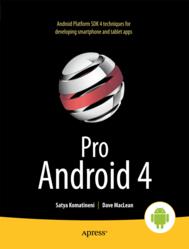 Build slick mobile apps and run them on dozens of Android-based smart phones with Pro Android 4
New York, NY (PRWEB) March 07, 2012
Fresh off the heels of being awarded a featured spot on Intel's "Recommended Reading List for Developers" for "Pro Android 3," acclaimed authors Satya Komatineni and Dave MacLean are back with their latest take on the mobile platform with Pro Android 4. Just released by Apress Media, this new edition promises to give users an advanced mobile resource that will guide them in creating apps with wow-factor on the world's fastest growing mobile platform. This means that apps developers have a multitude of opportunities to showcase their innovations.
Pro Android 4 offers app developers a chance to get the most out of the latest version—Android 4, Ice Cream Sandwich—and it covers everything from the fundamentals of building apps for embedded devices, phones, and tablets to advanced concepts such as custom 3D components and multi-tasking. Using the tutorials and expert advice within, readers will quickly be able to build slick mobile apps and run them on dozens of Android-based smart phones. Developers will explore and use the Android APIs, including those for media and sensors. They'll learn how to build irresistible standard and custom User Interfaces and User Experiences across Android devices and location-based services.
After reading Pro Android 4, developers will gain the knowledge and experience to create stunning, cutting-edge Java-based Android 4 apps that will get noticed in the marketplace and bring in revenue. Using Content Providers, users will populate their application with data from data sources. They will also become well versed in Android's location-based services, network-based services and security. Best of all, they will learn how to create 3D graphics with OpenGL and custom components, as well as build multimedia and game apps using Android's media APIs and OpenGL. This must-have resource is for professional software engineers and programmers who want their ideas and applications become a success in the mobile space with Android.
To learn more about Pro Android 4, visit http://www.apress.com/9781430239307
*ISBN: 978-1-4302-3930-7
*1020 Pages
*User Level: Intermediate to Advanced
*Publication Date: March 5, 2012
*Available eBook Formats: EPUB, MOBI, PDF

Print Price: $49.99
eBook Price: $34.99
About the Authors
Satya Komatineni has been programming for more than 20 years in the IT and Web space. He has had the opportunity to work with Assembly, C, C++, Rexx, Java, C#, Lisp, HTML, JavaScript, CSS, SVG, relational databases, object databases, and related technologies. He has published more than 30 articles touching many of these areas, both in print and online. Dave MacLean is a software engineer and architect living and working in Jacksonville, Florida. Since 1980, he has programmed in many languages, developing solutions ranging from robot automation systems to data warehousing, from web self-service applications to electronic data interchange transaction processors. Dave has worked for Sun Microsystems, IBM, Trimble Navigation, General Motors, and several small companies. He graduated from the University of Waterloo in Canada with a degree in systems design engineering.
About Apress Media
Apress Media LLC is a technical and business publisher devoted to meeting the needs of IT professionals, software developers, programmers, and business leaders with more than 1,000 books in print and electronic formats. Apress provides high-quality, no-fluff content that helps serious technology professionals build a comprehensive pathway to career success. For more information about the innovative approach Apress takes to publishing, please visit http://www.apress.com.