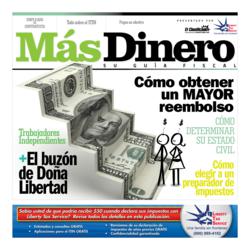 We were impressed with Liberty Tax Service's focus on the Hispanic community through their Una Familia Sin Fronteras initiative and their passion for education and economic empowerment.
Los Angeles, CA (PRWEB) March 07, 2012
Virginia-based Liberty Tax Service and Los Angeles-based EC Hispanic Media partner to bring Hispanic consumers in Southern California timely, high-value educational content. Through the partnership, Liberty Tax Service's educational Hispanic Initiative, Una Familia Sin Fronteras, utilizes El Clasificado's award-winning distribution to reach Hispanic families with vital fiscal and financial information that will make a positive impact on their lives. Liberty Tax Service and El Clasificado have created a value-packed custom publication entitled "Más Dinero" (More Money).
The custom publication offers readers information that allows them to make the right decisions as they prepare to file their taxes, in tandem with other important details relative to work classifications and fundamental fiscal responsibility issues. The publication can be found in over sixty-five hundred (6,500) of El Clasificado's 22,000 distribution points throughout the Los Angeles area, including selected Liberty Tax Service retail locations in Southern California located in high-Hispanic-density locations.
"El Clasificado has a top-notch distribution system and is deeply rooted in the Hispanic communities where they do business. Since the goal of our Una Familia Sin Fronteras educational initiative is to reach as many Latinos as possible with FREE fiscal and financial information, El Clasificado was the perfect partner", said Martee Pierson, Director of Diversity Programs for Liberty Tax Service. In the weeks leading to the publication of the custom publication, El Clasificado has also been publishing valuable tax tips in 20 of its 38 zones. These tips feature Liberty Tax Service's Doña Libertad, the "wise Latina" representative of their Hispanic Initiative. In addition, the tax tips are accompanied by public service announcements from key Liberty partners including Mothers Against Drunk Driving (MADD) and the American Red Cross.
"We were impressed with Liberty Tax Service's focus on the Hispanic community through their Una Familia Sin Fronteras initiative and their passion for education and economic empowerment. Their valuable educational resources are sorely needed in the Hispanic market. It is a pleasure to work with a company that has provided financial independence to many entrepreneurs. Our objectives align very well," said Martha de la Torre, CEO of EC Hispanic Media.
The partnership also includes a distribution deal which allows for the distribution of El Clasificado in selected Liberty Tax Locations via co-branded retail racks. "The combination of Liberty Tax Service and El Clasificado in a co-branded distribution point where consumers can find educational value has been a great hit with our consumers," said Diana Aghili, National Sales Manager for EC Hispanic Media. "Solutions like these engrain our clients' brands to our reader's daily life," she added.
Finally, in April of 2012, Liberty Tax Service will participate in El Clasificado's Su Socio de Negocios(Your Partner in Business) Expo. The Expo brings education, tools and inspirational stories to small business entrepreneurs in Southern California. Liberty Tax Service's Martee Pierson will be the keynote speaker and Liberty Tax Service franchisees will present inspirational success stories to the attendees.
About EC Hispanic Media:
EC Hispanic Media is a Los Angeles-based company with headquarters in Norwalk, California. Through its flagship print product, El Clasificado, EC Hispanic media reaches 2 million Hispanics on a weekly basis. Its footprint extends from the Central Valley of California to San Diego with a distribution of 475,000. In the last year, the distribution has grown at a neck breaking pace, and has recently expanded into the Fresno and the Bakersfield markets. EC Hispanic media also owns elclasificado.com which generates over 9.9 million page views a month. EC Hispanic Media's events division produces "Quinceañera Expo" which attracts 10,000 attendees annually, and the "Su Socio de Negocios" small business workshop series. EC Hispanic Media also reaches the bilingual Hispanic via its online property alborde.com and its "Día de los Muertos" (Day of the Dead) event in November.
About Liberty Tax Service
Liberty tax service is the fastest-growing retail tax preparation company in the industry's history. Founded in 1997 by CEO John T. Hewitt, a pioneer in the tax industry, Liberty Tax Service has prepared over 8,000,000 individual income tax returns. With 41 years of tax industry experience, Hewitt is the most experienced CEO in the tax preparation business, having also founded Jackson Hewitt Tax Service. He entered the industry in 1969 after taking a tax preparation course.
Each Liberty Tax office offers customers audit assistance, a money-back guarantee, and free tax return reviews. An elite group of Hispanic Services Seal of Excellence Certified offices also provide assistance in Spanish and offer many special services geared toward our Hispanic population free of charge, across the nation. The Liberty Tax Service franchise opportunity is #7 on the list of fastest-growing franchises in Entrepreneur magazine's "Franchise 500" list for 2011, and was selected as one of the top 25 Franchises for Hispanics by PODER magazine.
Contact:
Hugo Hernandez
Director of Marketing and Events
323-837-4091
hhernandez(at)elclasificado(dot)com