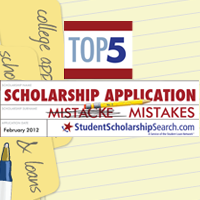 Quincy, MA (PRWEB) March 07, 2012
StudentScholarshipSearch.com, a division of the Edvisors online education company, recently released an infographic that depicts the top 5 application mistakes that students make when applying for college scholarships. The infographic lays out the 5 tips, which include not following instructions and not paying attention to deadlines, and provides tips for students on how to avoid those mistakes.
Scholarship awards can be very competitive and many times it only takes one small mistake for an application to be rejected. StudentScholarshipSearch aims not only to help students find scholarships, but also to give them the tools they need to successfully apply for and obtain scholarship money. This infographic serves as a visual reminder for students going through the scholarship application process.
In addition to StudentScholarshipSearch, Edvisors runs a host of other websites that help students learn about the college admissions process, student loans and online education programs. "We want to make it easier for people to navigate the higher education process," said Joe Cronin, CEO. "This infographic is just one of the many great resource we provide for students, parents, and education professionals."
To view The Top 5 Scholarship Application Mistakes visit: http://www.studentscholarshipsearch.com/tips/scholarship-tips-and-mistakes.php
 
For more information, or to arrange an interview, contact:
 
Kristin Ferguson
press (at) edvisors.com
617-328-1565
 
 About Edvisors:
 
Edvisors (http://www.edvisors.com), a global leader in higher education marketing and college financial aid, provides a richer, more fulfilling education experience to students, educators and parents worldwide. We deliver on our mission by providing an unmatched portfolio of online education resources, scholarship programs, student loan products and college-related information and services through Edvisors Student Services, Student Loan Network, and the Edvisors Foundation.