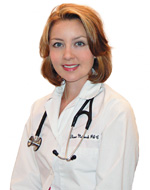 Constipation is one of the more easily treatable, temporary medical causes of incontinence.
Neenah, Wis. (PRWEB) March 08, 2012
Incontinence caused by constipation can affect individuals of all ages. Wake Forest Baptist Medical Center researchers recently published a study in the journal Urology that found constipation often is a cause of bedwetting in children. Laxative therapy cured 83 percent of the children and adolescents studied within three months, says HealthDay News in a Feb. 6 article published in U.S. News & World Report.
"Constipation is one of the more easily treatable, temporary medical causes of urinary or fecal incontinence," says Dianna Malkowski, physician assistant, nutritionist and professional adviser for The CareGiver Partnership.
Malkowski offers these tips for managing constipation-related incontinence:

It's important that seniors consult their doctors about how much water to drink. Drinking water helps prevent constipation, but too much can cause frequent urination.
Eating more fiber can help soften stool and improve digestion. Foods rich in insoluble fiber include vegetables, whole grains, nuts, beans and berries.
Food and beverages that can cause bowel irritation include spicy or oily foods, alcohol, caffeine, and dairy products for the lactose-intolerant.
A health care provider may suggest medications, stool softeners, laxatives, or enemas to loosen impacted stool.
Quality incontinence products are made from advanced, absorbent materials that keep urine and stool away from skin.
A proper skin care regimen includes cleansing, moisturizing and protecting, to keep skin healthy and prevent infection.
For further reading on constipation, incontinence products and skin care, visit The CareGiver Partnership blog.
Dianna Malkowski is a Board Certified Physician Assistant and Mayo Clinic trained nutritionist specializing in diabetes, cancer, wound healing, therapeutic diets and nutrition support. She serves on the board of professional advisers for The CareGiver Partnership and enjoys working with patients and caregivers alike. Ask Dianna a question.